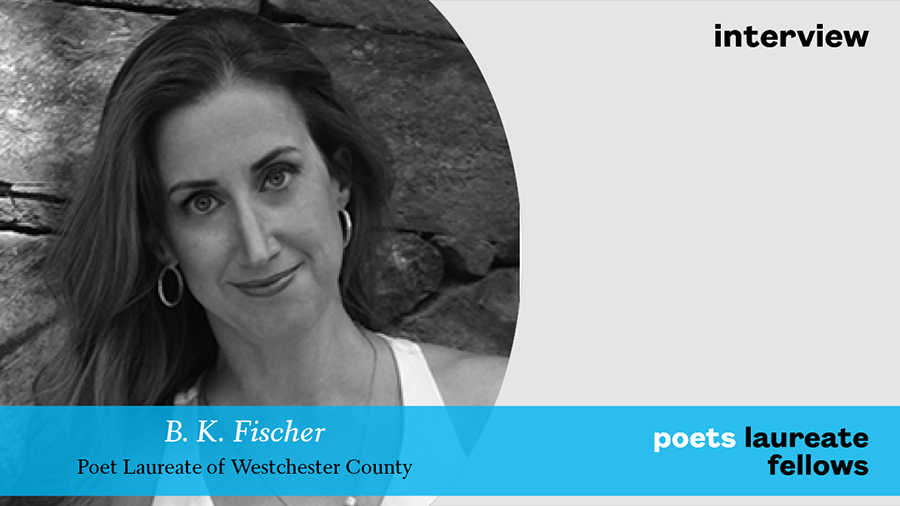 B. K. Fischer is the author of Ceive (BOA Editions, 2021), a finalist for the 2021 National Book Critics Circle Award. Fischer is former poetry editor of Boston Review and teaches The Comma Sutra in the School of the Arts at Columbia University. She is currently the first poet laureate of Westchester County. In 2022, Fischer was named an Academy of American Poets Laureate Fellow. In collaboration with ArtsWestchester, Fischer will start the Floodwaters Workshops, an outdoor writing workshop series at sites of flooding and flood risk in Westchester County, to bring poetry into the local conversation about climate. 
---
Poets.org: How can a poet, or poetry, bring a community together? 
B. K. Fischer: I envisioned the Floodwaters Workshops—outdoor writing workshops for youth and other students at sites of flooding and flood risk in Westchester County—as one way a community could come together to process and share our experiences of climate change. 
Recent storms and flooding have brought the climate crisis very close to home here in Westchester County, New York, and there's a collective need, as there is in many other places, to express fear and hope, talk about causes and consequences, and imagine other futures. Hurricane Ida in September 2021 turned parking lots into lakes, flooded homes, submerged cars on parkways, carried mud and debris across the tracks of the Hudson Line, and trapped residents of some communities in their homes. Forty-five people in the region lost their lives in that storm. Like Hurricanes Sandy and Irene before it, and many ice storms, nor'easters, and tornados in between, extreme weather has brought the reality of climate change into our streets and backyards. I recently came across Hilda Raz's poem, which asks the question we find ourselves asking here over and over: "The storm, was it bad? / Here the worst ever. Every tree hurt." We're bringing poetry into the local conversation about climate.


Poets.org:  How can eco-writing and eco-poetry help us grieve and cope with the global warming crisis? 
B. K. F: Poems are acts of attention—they can wake us up to the here and now. Eco-poetry and eco-writing can ground us in the conditions of the place where we are, uncovering layers of local history, human ecologies, and natural ecologies. 
When we sit down to write at a picnic table between the salt marsh and the Dragon Coaster at Rye Playland, or next to storm-battered docks in Tarrytown, or on a muddy bank between a baseball field and the Pocantico estuary, we are marking the intersection of climate, conservation, and the social world. Eco-poetry invites us to ask "Where am I?" with as much particularity as poetry has always devoted to the question "Who am I?" Answering the question "Where am I?" changes the scale, broadens perspective, and deepens recognition of our place in ecosystems, local and global. 
Poems can give us space to document our horrified witnessing and shared anxiety, space to record what is going on. Fatimah Asghar wonders, "I Don't Know What Will Kill Us First: The Race War or What We've Done to the Earth." Rajiv Mohabir observes, "humpbacks migrate / again to Queens," and "Now ICE beats doors / down on Liberty Avenue." In the workshops, I share these poems and others, and invite people to make poems of their own about these pressing issues and what they mean to their lives. Poetry helps us perceive, recount, and memorialize what happens in places undergoing or on the brink of catastrophic change.
 Westchester County's reputation as an affluent suburb of New York City ignores the economic and social disparities that shape our communities. Westchester is home to one million people, eighty-four thousand  living below the poverty line, and it includes large cities like White Plains and Yonkers, post-industrial towns like Peekskill, working-class suburbs like Valhalla, and rural villages like Croton Falls. While the climate crisis imperils everyone, the fact remains—in this county, as across the globe—that those who have the least stand to lose the most. Westchester is also home to large populations of recent immigrants, many of whose homelands have been impacted by climate change, or for whom climate change has compelled their migration itself. Poets speak to this intersection and help us recognize it for what it is.
Poets.org:  What obstacles, if any, did you experience when starting your project? 
B. K. F: It's easy to reach students who are already highly resourced. It's much harder to connect with underserved populations, students in under-represented communities where resources are stretched thin. That is the work—finding the students who don't typically have a voice or access to workshops like these. With the help of Westchester County's youth bureau, we are reaching out to school districts, city youth bureaus, community centers, and other organizations that connect us with kids. And we are making these workshops engaging, free, and fast—teenagers have a lot on their plates. 
We also wanted to include incarcerated writers in the workshops, and obstacles to teaching in prison are almost insurmountable. Thanks to poet and educator Pam Hart, in cooperation with Rehabilitation Through the Arts, the Floodwaters Workshops took place in September in Bedford Hills Correctional Facility. The connections between eco-justice and incarceration are underdiscussed, and the women at Bedford offer searing insight in their writing. We are looking forward to bringing these poems to a wider audience.
And because the tradition of eco-queer poetry is so vast and vital, a wellspring that informs all contemporary writing about climate—writers as diverse as Natalie Diaz, Brian Teare, Richard Blanco, Stephanie Burt, Jericho Brown, and many others—we wanted to reach queer youth and amplify their voices alongside this foundational tradition. The poet Rachel Simon brought the Floodwaters Workshops to the LOFT LGBTQ+ Center in White Plains, where she is working with youth and adults this fall. 
We're going from zip code to zip code, crossing the county from the Hudson to the Long Island Sound. This kind of itinerant teaching means always running into obstacles with weather and traffic and logistics. And because we are making a documentary about the movements of these workshops in varied landscapes, I have also become a kind of accidental filmmaker. The process involves pizza, Halloween candy, portable whiteboards, clipboards, tiny microphones, and muddy sneakers, mine and the kids'! 
Poets.org: How has being a poet laureate changed your relationship to your own writing?
B. K. F: It has situated me very literally in the place where I live, in all its layers of complexity, and it has grounded me in the work of poetry as a collective act, a conversation. At the Serious Fun Arts Festival in White Plains in October, we set up a booth called "The Poet Is In," a nod to Lucy in the Peanuts cartoon. Some terrific Westchester poets joined me in the booth—Kathleen Ossip, Rachel Simon, Andrès Cerpa, Eric Odynocki, and Sean Singer. All day, on a busy corner in White Plains, we created poems on the spot and by request for people passing by—kids, couples, families, older folks. We wrote poems about love, heartache, autumn, pets, friends, celebration, and lament. My best work was a tribute to dogs and pizza at the behest of a Brownie troop. Working in public in this way was an illuminating experience of the bare bones of my poetic practice under warp-speed conditions. At the end of the day, I'm just an amanuensis of the word-flux of an autumn afternoon.
Poets.org: What do you hope for the future of poetry in Westchester County, and what support do you hope future poets laureate in New York have?
B. K. F: My hope is that working, literally at ground level, on the actual ground and grass, is one way to connect in a grassroots way to activism, to movements for social justice in our communities. I want the next laureates here to have the time and space to bring more poems to more people, because poems are vital ways to rethink what it means to inhabit our home spaces and inhabit them together. 
They also awaken and reawaken us to difficult histories. Each stage in this project—every meeting of the workshops—foregrounds the ongoing development of Indigenous land acknowledgements for each particular locale, honoring the Wappinger, Lenape, and Mahican peoples who have stewarded the lands and waterways of what is now Westchester County. The ongoing effort to do this helps to remind us of what we don't know, what has been erased, what has yet to be done—and it is only a start. We paused to uncover the fact that the Greenburgh town seal represents the water-tight bark kettles made by the Weekquaeskeek peoples, and to note that, where the Starbucks is in Rye Town Center, there was once a Siwanoy village called Poningo. We stood on the Sound shore and noted that the slave ship Charles docked there at that spot in 1685. Nine enslaved people disembarked, the only survivors of the trans-Atlantic journey out of 105 people who were kidnapped from the Congo. Eight of those people then traveled across what is now Interstate 287 into a life of forced labor on a Dutch plantation, Philipsburg Manor, in what is now Sleepy Hollow. Poetry can remind us of what we know and don't know about where we live.
Poets.org: Is there a poem on Poets.org that inspires you and your work in your community? How so?
B. K. F: Recently I've been closing my workshops with a group reading of Rena Priest's "The Forest for the Trees." Rena is a citizen of the Lhaq'temish (Lummi) Nation and currently the poet laureate of Washington, one of the other poets in this year's Laureate Fellowship cohort. After the students have brainstormed together, read some other poems, and done some writing, I send us off with Rena's voice in our heads: "When we speak, whether or not / we agree, the trees will turn / the breath of our words / from carbon dioxide into air—// give us new breath / for new words, / new chances to listen, / new chances to be heard."