"Oh, seems to me, there should be two ceaseless steeds for a bold man to ride, the Land and the Sea; and like circusmen we should never dismount, but only be steadied and rested by leaping from one to the other, while still, side by side, they both race round the sun. I have been on the Land steed so long, oh I am dizzy."
—from Pierre, or The Ambiguities.
Starting Point of Walk:
7 State Street between Pearl and Whitehall Streets, N. E. Side
The James Watson House (now attached to the Shrine of Blessed Mother Seton), c. 1793–1806, built in the fourth year of George Washington's presidency of the Federal Republic.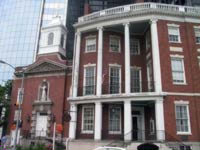 This survivor of the Federal style suggests how the boarding house in which Herman Melville was born probably looked. Its site was around the corner at 6 Pearl Street, now marked with a bronze plaque. In the 1820s a boarding house population had begun to move into the Federal mansions that twenty-odd years earlier had established this neighborhood as New York's most elegant. Here George Washington held his "Federal Court" during his first term as President. But as warehouses, shipping offices, and shops began crowding into the area, the fashionable families migrated uptown. No longer was the Battery reserved for exclusive promenades, but became a popular airing place which requited New Yorkers for long days spent in the "Babylonish brick-kiln" interior of Manhattan. Melville described the city-dwellers as water-famished, rushing to the island's tip:
Its [Manhattan's] extreme down-town is the battery, where the noble mole is washed by waves, and cooled by breezes, which a few hours previous were out of sight of land. Look at the crowds of water-gazers there. . . But look! here come more crowds packing straight for the water, and seemingly bound for a dive. Strange! Nothing will content them but the extremest limit of the land. . . . They must get just as nigh water as they possibly can without falling in. . . . Yes, as everyone knows, meditation and water are wedded for ever.
—Moby Dick
The Battery is one of the places in New York that would have brought Herman Melville and Walt Whitman in close proximity. They easily could have stood side by side gazing at the Bay, unaware of the other, for this was a mutually favorite spot. The two writers never met. They were born several months apart in the same year and both came from Dutch and English stock—their lives ran parallel to each other but never intersected. Both died within the same six month period.
Whitman's forebears were simple, Long Island farm folk; Melville had descended from patrician families on both sides. His mother's family, the Albany Gansevoorts, were connected to the old Dutch landholders whose entitlement came from the crown, and his grandfather, General Peter Gansevoort, had been a famous Revolutionary War hero. The Melville family (the final "e" was added later) was connected to Scottish titled aristocracy. Herman Melville's paternal grandfather, Major Thomas Melvill, had romped in the Boston Tea Party and fought in the Revolutionary War. In the l820s he still held the post of Collector of the Port of Boston to which George Washington had appointed him. Dr. Oliver Wendell Holmes called him "the last leaf upon the tree" and wrote commemorating his old-fashioned dress:
. . . old three-cornered hat, And the breeches, and all that. . .
Herman Melville's father, Allan, attended an academy, and then finished his education with a European grand tour. He settled in Paris for several years with his older brother, a rich banker, who served as American Consul—and who lost his fortune later on. The two brothers frequented a circle of high American and French notables, among whom was the Marquis de Lafayette and his son. After returning to the United States, Allan Melvill started an import business in New York dealing in fine French wares—silks and brocades, Leghorn hats, gloves, ribbons, engravings, and paintings. On August 1, 1819, he wrote his French associates of the birth of his third child and second son, Herman: "Mme. Melvill s'était heureusement accouchee d'un beau Garçon . . ."
Within two years Allan Melvill moved his wife and three children to their own house at 55 Cortlandt Street, staffed with a cook, nurse, houseman, and later a governess. Allan Melvill was indeed prospering. It required wealth for a New York family to enjoy the felicity of a house entirely to themselves in a city whose population always exceeded the number of dwellings. Two subsequent moves registered further rises in Allan Melvill's fortune: first to Bleecker Street, and by the time his son, Herman, was 10 years old, to the upper, suburban limits of the city at 675 Broadway, New York's fashionable street. Allan Melvill twitted his wife that finally she had achieved "a Broadway address." Their family had grown to "seven bairns" with one more to come.
Although a tender father, Allan Melvill was anxious that his sons grow up worthy of their "double-rooted" heritage and strictly regulated their daily lives. Sometimes as a treat, he brought the two eldest sons, Gansevoort and Herman, on a visit to his shop on Pine Street, and may even have augmented the experience by taking the boys the full length of the omnibus trip from upper Broadway to Bowling Green. Then, rather than going directly up to Pine Street, he probably led his sons along the waterfront for its sights. Our walk will retrace Allan Melvill's presumed sightseeing tour with Gansevoort and Herman.
It was his boyhood vision of his father's world—the world of harbor, docks, legends, foreign languages, and a horizon far beyond the limits of the Bay—that Herman Melville plundered for his early fiction. It was the busy, mercantile New York of the 1820s, an "insular city of the Manhattoes, belted round by wharves as Indian isles by coral reefs—commerce surrounds it with her surf."
. . . I remembered, how many times my own father had said he had crossed the ocean; and I have never dreamed of such a thing as doubting him; for I always thought him a marvelous being, infinitely purer and greater than I was. . . . Yet now, how could I credit it, that my own father. . . had ever sailed out of these Narrows, and gone to England, and France, Liverpool, and Marseilles. It was too wonderful to believe.
—Redburn.
His father's world filled an imaginative boy's mind on "rainy days and Saturday afternoons." Of less importance, it would seem, were thoughts about his ambition to excel in oratory and debate at the All Male High School, or concern over the dancing lessons and cotillions in which the sons and daughters of Manhattan's mercantile wealthy learned how to deport themselves in society.
---
Begin the walk by going to the corner building at Pearl and State Streets, which is owned and occupied by the Seamen's Church Institute.
During the 19th century, the Institute maintained a floating chapel for seamen, which it first launched in 1844. The chapel would have been a familiar sight to Melville. It seems appropriate that this building's site includes Melville's birthplace; inside are to be seen models of whalers, brigs, packets, clippers—all the kinds of ships that sailed Melville's seas—among the extensive collection of ship models and maritime artifacts on display.
Turn the corner on Pearl and note the plaque to Melville on the side of the building. Continue on Pearl, crossing Whitehall and Broad Streets. Here we enter Fraunces Tavern Block Historic District.
54 Pearl Street: Fraunces Tavern
(The present building is a restoration, first done in 1907. Further restoration work was carried out in 1969.) The 18th century structure that we see here probably would not be recognizable to the Melvills, who would have known Fraunces Tavern before the fire of 1832 as a slightly rundown tavern and meeting place.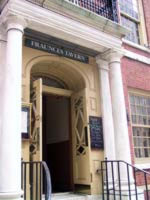 Go along Pearl Street and note the commercial structures lining the street. For the architectural history of these buildings and an account of the archeological findings discovered near Coenties Slip, consult the Guide to be issued by the New York Landmarks Preservation Commission.
Note that Coenties Alley once bounded the north side of Coenties Slip, which was a man-made inlet, created by a breakwater that stretched diagonally across it. The slip was eventually absorbed in landfill which overtopped and extended the breakwater. All the underpinning of Water, Front and South Streets is man-made.
In Redburn, Melville brings back a boy's impression of Coenties Slip:
. . . somewhere near ranges of grim-looking warehouses, with rusty iron doors and shutters, and tiled roofs; and old anchors and chain-cables piled on the walk. Old-fashioned coffee-houses, also, much abound in that neighborhood, with sun-burnt sea-captains going in and out, smoking cigars, and talking about Havana, London, and Calcutta.
Nos. 58 and 62 would be among the "grimlooking warehouses" that he saw.
71 Pearl Street (Broad Street and Coenties Alley)
Here in Allan Melvill's time stood a hybrid version of the Dutch Stadt Huys (City Hall). In 1827 a new facade had been added to the structure. The walls dated from 1700, and the foundation was the original, laid in 1642. Water once lapped its steps.
Surely the ceremonious Allan Melvill would have pointed out these vestiges of Dutch rule as a reminder of the boys' Dutch heritage, as he would also have taken them to see Gansevoort Street (near West Twelfth and West Streets) named after their grandfather. Melvill wore a ring that had belonged to General Peter Gansevoort; he was as proud of his father-in-law as of his own father. General Gansevoort had stopped a massive British and Indian push eastward at Fort Stanwix (in Rome, New York). It was one of the decisive battles of the Revolutionary War.
When Melville was six years old, General Lafayette returned to accept the nation's tribute for fighting for the democratic cause. He and his entourage stopped in Albany to pay respects to General Gansevoort's widow, the boys' grandmother. In that same year, Lafayette's visit to Brooklyn caused excitement in the Whitman household. It became proud family legend that six year old Walt had been "picked up and carried by the old companion of Washington" —the better for the boy to see the ceremony in which Lafayette dedicated a cornerstone. (Whitman's last version—he wrote three—of the incident added a kiss from the general.) If the old French aristocrat had patted a young Melville head during the course of his New York reception, nobody in that household—so accustomed to celebrity—would have particularly remembered. Such were the parallels and divergences between the two writers' lives, as they moved toward adulthood.
Proceed along Pearl Street to Hanover Square.
Note the sign on the right, "Old Slip." In the 1820s, it was a man-made bay off the harbor in which boats were anchored. Lining the streets at Old Slip were the last remnants of New Amsterdam for the boys to see, the old Dutch houses with pediment walls and squared gables. Here also were ships at anchor and docks loaded with goods. In Redburn Melville recalls a boy's view of the "coppered and copper-fastened" brigs, "black, seaworn craft, with high, cozy bulwarks, and rakish masts and yards." Piled on the docks were "musty bales and cases of silks and satins."
Particularly, I remembered standing with my father on the wharf when a large ship was getting under way, and rounding the head of the pier. I remembered the yo heave ho! of the sailors, as they just showed their woolen caps above the big bulwarks. I remembered how I thought of their crossing the grand ocean; and how those very ships, and those very sailors, so near to me then, would after a time be actually in Europe.
—Redburn.
In his father's world, a procession of story-tellers came and went. The boy spent the first 11 years of his life listening to tale-bearers from other lands and places.
And of winter evenings in New York, by the well-remembered sea-coal fire. . . my father used to tell my brother and me of the monstrous waves at sea, mountain high; of the masts bending like twigs. . . And especially I tried hard to think how such places must look of rainy days and Saturday afternoons. . .
—Redburn.
Among the story-tellers who told a tale or two at the hospitable Melvill hearth, were the children's uncle, Captain D'Wolf (husband of their father's sister) — an old sea captain with white hair, who used to tell me that he . . . crossed over by land from the sea of Okhotsk in Asia to St. Petersburg, drawn by large dogs in a sled.
—Redburn.
(Captain D'Wolf reappears in Moby Dick.) There were Gansevoort first cousins, who were midshipmen, and who brought stories of Africa, Brazil and Spain. Guert Gansevoort became the notorious
. . . lieutenant in the brig-o'war famed When an officer was hung for an arch-mutineer,
But a mystery cleaved, and the captain was blamed. . .
—from "Bridegroom Dick."
Melville refers here to the hanging of young Philip Spencer of the U.S.S. Brig Somers, a case that served him as the basis for his posthumously published tale, Billy Budd. (Images of Guert Gansevoort flashed through several of Melville's poems.)
At the family hearth, the children heard travelers converse in French with their father.
As years passed, this continual dwelling upon foreign associations, bred in me a vague prophetic thought, that I was fated, one day or other, to be a great voyager; and that just as my father used to entertain strange gentlemen over their wine after dinner, I would hereafter be telling my own adventures to an eager auditory. . .
—Redburn.
Melville became a superb story-teller, "an incomparable dramatic story-teller," Richard Dana (author of Two Years Before the Mast) declared, after listening to Melville tell sea tales over wine at a Boston dinner party.
Walk through Hanover Square to William Street. Proceed on William to Wall Street; turn right on Wall Street.
(The Hanover Square Allan Melvill knew was obliterated by the Great Fire of 1835 which gutted the entire area, including the last of the Dutch houses at Old Slip.)
---
55 Wall Street: The First National City Bank Building
The modern bank rests upon the foundation and lower portion of The Merchants' Exchange, built in 1842. Now remodeled and doubled in height, the structure was originally built around a central dome, ringed with a tier of Ionic columns. (The original facade now stands at the entrance of the American Wing of the Metropolitan Museum of Art.)
In Allan Melvill's time The Merchants Exchange was the hive of New York commerce. Undoubtedly he would stop here with his boys to witness the drama of trading. They would have noticed the respect accorded their father, who ranked high as an importer and bore the trappings of success: a house on upper Broadway and children in fine schools.
Here we must take leave of Allan Melvill. In 1830 he went bankrupt. His downfall illustrates the New York merchant's plunge that so fascinated the young novelists of the 1840s, who had begun to write on American urban life, the so-called "cockney" school of writers. As they pointed out, no matter what caused the bankruptcy-shipwrecks or speculation-the bankrupt merchant immediately became a pariah. Charles Briggs, one of the "cockney" school, described the process:
Of a sudden he feels that his respectability has oozed away from him; and when he finds that he has got nothing but his character to depend upon, he begins to distrust his own virtue, as he discovers that it will neither gain him credit for a dollar, nor insure him the respect of his acquaintances. . .
Allan Melvill fled to his wife's family in Albany, where with their help he tried to pick himself up. But he died a year later, leaving business affairs to be carried on by Gansevoort, the eldest son, then 17 years old. The cloud hanging over the family darkened further when Allan Melvill went insane shortly before he died.
In a passage in Redburn, the sailor lad daydreams about being
. . . at home again in the city, with my father alive, and my mother bright and happy as she used to be. . . . When I think of those days, something rises up in my throat and almost strangles me.
Turn back to William Street. Proceed to the corner of Pine and William Streets. Here we will find that we have stepped into the 1840s, Gansevoort Melville's New York, particularly the years 1844–1845.
16 Pine Street, corner of William. Law offices of Gansevoort and Allan Melville
By 1844, Gansevoort Melville—the "despairing older brother" —had managed to recover a career and distinguish himself. He was 29 years of age. After supporting his sisters, brothers and mother by maintaining the cap and fur business his father had started in Albany (his brother, Herman, clerked for him halftime while attending the Albany Classical School), Gansevoort was wiped out in the Panic of 1837. The ensuing depression and his bankruptcy reduced the Melville family to indigence.
Gansevoort retrained himself to be a lawyer by clerking in Uncle Peter Gansevoort's law office and, reviving the Melville boys' flair for oratory, became a spell-binding public speaker. A Democrat, he campaigned for President Polk in the election of 1844 through Tennessee, Kentucky, Ohio and Western New York.
Always keeping a paternal eye on his younger brothers, Gansevoort directed the third son, Allan, to stick by a tedious clerkship in Albany until he too could migrate as a fledgling lawyer to New York. By 1845 Allan had joined Gansevoort. All job attempts had fizzled for the second brother, Herman. Finally, he shipped aboard the merchant ship, St. Lawrence, with the rating of a "boy," reaching Liverpool and returning to New York with the ship. He next tried teaching, but the school defaulted his pay. He then signed aboard the whale-ship, Acushnet, returning in 1844 after 3 years of adventures. Urged by his family to put down on paper his wonderful stories, that same year he wrote the book, Typee. He was twenty-five years old. Gansevoort's sudden, brilliant prominence attracted the curiosity of a newspaper editor, who dropped by his law office in early 1845:
One day I called to see a lawyer on Wall Street, New York-a young and ardent politician, whom I had met often on the stump in the recent political campaign. . . and who had just received the appointment of Secretary of the Legation to the American Embassy near the Court of St. James. I congratulated and condoled with him on his appointment. It was a step upward and forward in the public life to which he aspired; but he was poor, and the salary was scarcely enough for his gloves and cab hire.
In the course of my visit, a younger brother and partner told me they had a third brother. . . 'a little wild' . . . who some years before had run away to Sea. . . 'he. . . has been writing something about his adventures with the cannibals. . .'
I at once sat down and opened the package of the sailor boy's manuscript. It was 'Typee,' and the runaway brother... was Herman Melville.
I advised the diplomatic brother to take a copy to London, and have it issued there simultaneously with its publication in New York. I felt sure that the reviewers of the English press would make its American success. . .
—Forty Years of American Life, 1821–1861 by Thomas Low Nichols, M.D., New York, 1937 (reprint)
In the summer of 1845, Gansevoort Melville left for London to take up his duties as Secretary of Legation. There he negotiated the sale of Typee to an English publisher, and next to the London representative of an American firm, who became interested only when told of its English acceptance. Typee was the first instance of simultaneous publication on both sides of the Atlantic. In the spring of 1846, Gansevoort died. Herman Melville met the boat bearing his body and accompanied it to Albany. In Redburn Melville writes of a leave-taking between an older and younger brother in the voice of the younger, on the eve of going to sea for the first time:
. . . instilling in me much sage advice above his age to take care of myself; and I solemnly promised I would.... We walked on in silence till I saw that his strength was giving out,-he was in ill health then,-and with a mute grasp of the hand, and a loud thump of the heart, we parted.
The frail, worrying Gansevoort had pushed off his brothers to a good start towards restitution of family fortune. Allan Melville set up a partnership in offices at 10 Wall Street and prospered. He became his brother Herman's literary agent; and Herman Melville's career as a best-selling author was soaring.
Turn left and walk on Pine Street to the corner of Pine and Nassau Streets.
Here we have stepped into the next period, 1846–1850, and find ourselves in young Herman Melville's New York. In this part of town it was possible to run into the young writer almost any late afternoon striding down Nassau Street, perhaps heading for Allan's office or, more likely, the office of The Literary World, or out jaunting to shake out the cramps of a long writing day. Melville would be recognizable for his "stalwart frame," his "free, grave & manly air and-in his editor's words-"his sailor grace." On his passport, he gave his eyes as blue, nose as straight, but failed to mention the brown whiskers that covered half his face.
When Melville moved to Pittsfield, Massachusetts, in 1850, he came under the close observation of his new neighbors, Nathaniel and Sophia Hawthorne. The Hawthornes recorded their impressions of him in their respective notebooks, Hawthorne noting a "characteristic gravity and reserve of manner," while his wife declared Melville to be
. . . a man with a true warm heart & soul & an intellect-with life to his finger-tips-And I am not sure that he is not a very great man. . .once in a while his animation gives place to a singularly quiet expression. . . an indrawn, dim look, but which at the same time makes you feel-that he is at that instant taking deepest note of what is before him-It is a strange, lazy glance, but with a power in it quite unique-it. . . take[s] you into himself. . . .
With the appreciative Hawthornes as audience, Melville flourished as a raconteur, telling stories in his "musical voice," one "who loses himself in his subject," "full of gesture & force." But in ordinary social situations, he was silent. "The most silent man of my acquaintance," wrote a memorialist, who had once witnessed a meeting between Dr. Oliver Wendell Holmes and the speechless Melville. The latter came alive, at which
arose a discussion. . . which was conducted with the most amazing skill and brilliancy on both sides. It lasted hours... I never chanced to hear better talking in my life.
In 1846 New York welcomed the young author of Typee as its new literary lion. Autograph hunters, hostesses, and daguerrotypists sought him. It was a brilliant time. His second book, Omoo, would be published by Harper's, an assured success, and he would bring out an enlarged edition of Typee. His courtship of Elizabeth Shaw was going favorably. She was the daughter of Lemuel Shaw, his father's boyhood friend to whom he had dedicated Typee. Elizabeth Shaw and Melville were married in 1847; before the wedding he found a four-leaf clover.
The influential Lemuel Shaw, who had become Chief Justice of the Supreme Court of Massachusetts, had stayed loyal to the fatherless Melvilles throughout their misfortunes; he would in turn help Herman Melville and his family.
Turn left down Nassau to Wall Street.
---
Wall Street, N. E. Corner, Nassau. Federal Hall National Memorial, originally the Custom House, built in 1842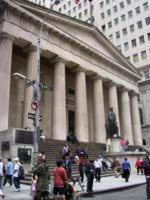 On his walks Melville would have passed this then new, handsome building many times and undoubtedly appreciated the irony of so noble and commemorative a structure housing so much corruption within. In those years, before Civil Service reforms were established, political bosses controlled the Customs Service. Rotten though it was, the patronage system served writers and journalists, for many worked in the Custom House either temporarily when out of a job or permanently. At the age of 46, Melville would gratefully join the permanent employees, accepting a Deputy Inspectorship even though he had once described this kind of a job as "worse than driving geese."
Mindful of responsibilities as husband and eldest brother, the young author had gone Federal jobhunting in Washington, D.C., but to no avail. At the age of 27, possibly with some of his father's hopefulness, Melville had decided that he could earn his way by writing.
Turn right on Wall Street and proceed toward Trinity Church.
In 1846 the new Trinity Church (completed in that year, it was the third and last version of Trinity Church to be built on this site) and the Post Office were the wonders of the neighborhood. Trinity's elegant Gothic spire pointed high over the tops of the four- or five-story buildings surrounding it, an emblem of the desire for architectural distinction then awakening in mercantile New York. Like everybody else, Melville visited the church and climbed up into the belfry. The Post Office stood a block away on Nassau Street between Liberty and Cedar Streets. In 1845 it had taken possession of the Middle Dutch Church, a stone structure that had variously served New Yorkers since 1731 when it was built. During the Revolutionary War, the British had commandeered it, using the church both as a prison annex and a riding academy. It was demolished in 1882.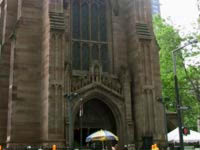 Melville would have often turned into this block, heading into the traffic of clerks scurrying up and down the street, on a visit to his brother, Allan, whose law office was at No. 10 on the second floor. In "Bartleby the Scrivener," he describes the clerks' patronage of "the numerous stalls nigh the Custom House and Post Office," for purchase of ginger cakes and "to moisten their mouths very often with Spitzenbergs." Bartleby's story has given this stretch from Nassau to Broadway such ironic distinction as to merit the name, "Bartleby's Wall Street."
The chambers of Bartleby's employer at "No.-, Wall Street" probably resembled Allan Melville's or those of any moderately successful lawyer who had made a "snug retreat" for himself by doing a "snug business among rich men's bonds, and mortgages, and title-deeds." The chambers were on the second floor:
At one end, they looked upon the white wall of the interior of a spacious skylight shaft, penetrating the building from top to bottom. . . . the view from the other end. . . offered, at least, a contrast, if nothing more. In that direction, any window commanded an unobstructed view of a lofty brick wall, blackened by age and everlasting shade. . . the interval between this wall and mine not a little resembled a huge square cistern.
In this enclosure were to be found the scriveners, the all-male secretarial pool of that day, copying "lengthy documents" often in "quadruplicates of a week's testimony." A lawyer would expect his scriveners to look presentable in consonance with the tone of his chambers, but the cost of respectability posed a dilemma:
The truth was, I supposed, that a man with so small an income could not afford to sport . . . a lustrous coat.
The lawyer's new scrivener, Bartleby, looked his part almost to exaggeration "pallidly neat, pitiably respectable, incurably folorn!" He "wrote on silently, palely, mechanically," and was quite satisfactory—until requested to proof-read: he "preferred not to." Proofreading was essential to law-copying, although as the lawyer admitted,
a very dull, wearisome, and lethargic affair. I can readily imagine that, to some sanguine temperaments, it would be altogether intolerable. For example, I cannot credit that the mettlesome poet, Byron, would have contentedly sat down with Bartleby to examine a law document of, say, five hundred pages, closely written in a crimpy hand.
Out of Bartleby's "mulish vagary" —that he prefers not to—unfolds Melville's ironic story of practices in a Wall Street law office in the late l840s.
Turn right and proceed up Broadway.
In this section, Melville would have visited the art galleries that were beginning to proliferate along Broadway. Many offered engraved reproductions of European masterpieces; and others displayed forgeries, as Melville later commented in his romance, Pierre.
. . . they drew near to a conspicuous placard over a door, announcing that above-stairs was a gallery of paintings, recently imported from Europe, and now on free exhibition preparatory to their sale by auction.. . . In the ante-room, a catalogue was put into his hands. He paused to give one hurried, comprehensive glance at ... Angelo, Domenichino, Da Vinci, all shamelessly prefaced with the words "undoubted" or "testified" . . .
In 1846, Melville attended the opening of the American Art Union in its new rooms near Franklin Street on Broadway— "in the rear of Mr. Cram's former dwelling," as one writer directed. (The American Art Union had been founded in 1840 to exhibit works of American painters as did The New York Gallery of the Fine Arts, founded in 1844.) At the crowded opening, Melville saw few paintings, but met most of New York's literati, including William Cullen Bryant, an enthusiastic supporter of native art. Several weeks after the opening, the young Brooklyn editor, Walt Whitman, reviewed the exhibit.
Over the years Melville's interest in art deepened. In 1857, when he tried to make money on the lecture circuit, he offered "Statuary in Rome" as one of his topics. Throughout his life he bought such paintings and reproductions as he could afford.
As he walked Broadway, or any New York street, Melville's authorial eye would be on the alert. Like Whitman, he found the city a rich picking-ground for material:
Where does any novelist pick up any character? For the most part, in town, to be sure. Every great town is a kind of man-show, where the novelist goes for his stock, just as the agriculturist goes to the cattle-show for his.
—from The Confidence Man, Chapter XXIV.
At Libery Street, turn right and walk to the corner of Liberty and Nassau.
---
97 Nassau Street, corner of Liberty and Nassau: Gowan's Antiquarian Bookstore, William Gowan, Proprietor and Dealer
At this bookstore, Melville browsed, bought books, and rubbed shoulders with other writers since it was a favorite hangout. Here he probably exchanged pleasantries with Edgar Allan Poe, whom he had met through their mutual editor. On one visit, Melville bought an edition of Robert Burton's Anatomy of Melancholy which, he discovered at a later time, had once belonged to his father's library. He noted on the fly-leaf:
I bought this book more than four years ago at Gowen's Store in New York. Today, Allan in looking at it, first detected the above pencil signature [A. Melvill] of my father's; who, – as it now appears – must have had the book, with many others, sold at auction, at least twenty-five years ago. – Strange!
109 Nassau Street: The Literary World, formerly Osgood's Literary World; Evert and George Duyckinck, Editors and Proprietors from 1848 to 1853
The manuscript, Typee, first brought together Melville and Duyckinck who, as publisher's editor, corresponded with the author-and then took him up. Melville wrote briefly for Yankee Doodle, a shortlived, humorous weekly and satellite of The Literary World and for the World an important, anonymous essay on Hawthorne's prose.
Duyckinck was only three years older than Melville (also of old Dutch forebears), but far more experienced in literary affairs. Cultivated, a man of means and taste, Duyckinck had dedicated himself to the cause of literary nationalism and in the interest of furthering it had helped found a Democratic group called "Young America." His goal was to raise the general level of American culture and by so doing to help generate the development of native genius. He had carefully delineated the attributes and subject matter expected of his ideal American writer. Melville didn't fit, but nevertheless qualified as interesting native talent. Duyckinck took the young literary lion under his wing when Melville first came to New York, guiding him into high culture-introducing him to theater, opera, symphony concerts, and exhibitions of painting and sculpture, and to his own fine library kept in the basement of his house at 20 Clinton Place. There Melville browsed, borrowed, and began his insatiable reading of books. He joined the Friday night discussions of art and literature in a company of artists and writers over the "tinkle of glasses" in Duyckinck's basement.
The Literary World was always ready to praise and defend Melville as one of its clique of literary nationalists, even though in its insistence that "Mr. Melville is a sailor, and he talks, acts and writes like a sailor," may have sounded an underlying tone of condescension. Apparently Duyckinck, although a devout Episcopalian, was not put off by the religious press's shrill attacks on Melville, who had charged missionaries with having foisted a kind of shallow, cultural perversion on the Polynesiansuperhaps because Duyckinck looked upon this outcry with the typical New Yorker's feeling of superiority over anything smacking of New England Puritanism. But his tolerance had limits, and his sailor's library explorations might be probing areas outside the pale. At first he was merely surprised at Melville's discrimination:
By the way, Melville reads old Books. He has borrowed Sir Thomas Browne of me and says finely. . .that Browne is a kind of 'cracked Archangel.' Was ever any thing of this sort said before by a sailor?
Melville's reading, questioning and thinking had pushed him into deeper and deeper waters, as he once wrote to Hawthorne:
Until I was twenty-five, I had no development at all. From my twenty-fifth year I date my life. Three weeks have scarcely passed, at any time between then & now, that I have not unfolded within myself.
—Letter, June, 1851
In Moby Dick, Duyckinck found that his sailor had dived too deep. Although the editor tried to review Moby Dick fairly, his religious sensibility was shocked by passages in which "the most sacred associations of life [were] violated and defaced." Not long afterward, Melville cancelled his subscription to The Literary World. Melville's next book, Pierre, or The Ambiguities cinched the estrangement. Duyckinck recoiled from its "supersensuousness" and must have winced over Melville's derision of a familiar brand of literary nationalism that he pointedly had labeled, "Young America in Literature."
Eventually the two men resumed their friendship, for the bond of reading and literary talk was strong between them. In the off-limits of the library, over "cakes and ale," Duyckinck enjoyed discussions he would have censured in print:
Herman Melville passed the evening with me . . . charged to the muzzle with his sailor metaphysics and jargon of things unknowable. . . But a good stirring evening—ploughing deep and bringing to the surface some rich fruits of thought and experience. . . an orgie of indecency and blasphemy.
Melville regularly visited Duyckinck at 20 Clinton Place long after that quiet street had turned into a commercial thoroughfare (West 8th Street between Broadway and Sixth Avenue) and warehouses loomed over the old-fashioned house. Duyckinck died at the age of 62. He had willed his fine collection of 70,000 books to the Lenox Library, which became part of The New York Public Library-as did his letters, diaries, and other writings.
Stop for a moment at the corner of Nassau Street and Maiden Lane. On the other side of Broadway, Maiden Lane becomes Cortlandt Street. When Melville was two years old, his family moved to 55 Cortlandt Street where they lived until 1824. He was far too young to know of the reprimand his father received from the Common Council, which labeled the "necessary" (the Melville family privy) a "nuisance" to be corrected.
Proceed up Nassau Street towards Fulton Street.
Here we abruptly cross over into Pierre's New York (1846–1850). Pierre like Melville is a young, lionized author, but missing are the jaunts to the opera, the hospitable literary circles, the welcoming editor, and the evening whist games in the bridal household. Pierre's New York is a twilight city, freezing cold, with a menacing or a menaced population. He has moved into the city from the country with his household, which comprises at first two young, high-strung women who jump at every new sound: "'I hear a strange shuffling and clattering,' said Deily, with a shudder. 'Yes,' returned Pierre, 'it is the shop-shutters being put down. . .'"
Melville wrote Pierre, or The Ambiguities, during the winter of 1851–1852 when he was living in Pittsfield, Massachusetts. It was his 7th book-length prose work in 8 years. Moby Dick had recently been published. His investment of two years' intensive work in its making had brought a return of some praise, a number of lukewarm reviews-and little money. Melville needed a commercial success. Partly because Lizzie Melville was a poor manager, supper in the household sometimes dwindled to tea and toast, meagre fare for growing children. Aiming to dash off a pot-boiler, the exhausted writer missed his target. Perhaps he discovered that his pen had willfully taken control of its direction- precisely what had happened to Pierre as he was writing his book. For, Melville said, what "absorbs the time and life of Pierre, is not the book but the primitive elementalizing of the strange stuff, which in the act of attempting that book, has upheaved and upgushed in his soul." Of this process, Pierre said:
Two books are being writ; of which the world shall only see one, and that the bungled one. The larger book, and the infinitely better, is for Pierre's own private self. That it is, whose unfathomable cravings drink his blood; the other only demands his ink.
The story of Pierre sometimes runs close to Melville's own life. His granddaughter revealed that the "family" (Melville sisters and brothers and Lizzie Melville) had worried lest readers would forget that an imaginative artist was at work and misconstrue personal and familial references as actual fact.
Here is a sick man [Melville] writing of some matters known to be true, some entirely untrue. . .Well they [ the family] knew the description of the soul-searching trials of a young author to be autobiographical. . . . but would others be able to separate fact from fiction?
The fact was that Melville, with "duns looking over his shoulder," was helplessly fixed to his writing desk, but while he sat, it seems to have metamorphosed into a "dread diving bell," which had the power of
Descending into consciences
         Where more is hid than found.
— "In a Church of Padua."
82 Nassau Street: site of "The Church of the Apostles," where Pierre finds chambers for himself and his household
This fictional building has been recognized as the former South Baptist Church, built in 1803 of "grayish stone, rudely cut and masoned into walls of surprising thickness and strength." Deconsecrated in 1848, the building was put to commercial use. It was five buildings down from Fulton Street on the right hand side of Nassau.
Melville fills the bottom floor of the "Apostles" with some expensive law offices, while elevating the less successful lawyers to the upper stories-whose clients climb very high for the lowest fee.
Also in the top quarters Melville stuffs "painters, poets or fugitive French politicians, or teachers of languages, or German philosophers." These people "gradually filled up the vacant chambers on high" as storks in Holland "light on the eaves, and in the attics of lofty old buildings in most large sea-port towns." Here Pierre settles and works on a book, parodying Melville's own habits, which Elizabeth Melville described in a "Memorandum" she wrote when an old lady:
– Winters of '47 and '48 he worked very hard at his books – sat in a room without firewrapped up-wrote Mardi – published 1849 – Summer of 49 we remained in New York – he wrote 'Redburn' and 'White Jacket.'
Wrapped in layers against the cold in an unheated room, Pierre
will not be called to, he will not be stirred. Sometimes the intent ear of Isabel in the next room, overhears the alternate silence, and the long scratch of his pen. It is, as if she heard the busy claw of some midnight mole in the ground. . . Ah! shivering thus day after day in his wrappers and cloaks, is this the warm lad that once sung to the world of the Tropical Summer?
At night Pierre prowls Broadway:
In the earlier progress of his book, he had found some relief in making his regular evening walk through the greatest thoroughfare of the city; that so, the utter isolation of his soul, might feel itself the more intensely from the incessant jogglings of his body against the bodies of the hurrying thousands. Then he began . . . fancying stormy nights... the great thoroughfares were less thronged, and the innumerable shop-awnings flapped and beat like schooners' broad sails in a gale, and the shutters banged like lashed bulwarks; and the slates fell hurtling like displaced ship's blocks from a loft.
But one afternoon he declares a holiday from the "vile book" (Isabel's epithet) and sets off for an art gallery, taking his young women on each arm, and hears a sardonic warning of danger:
As they passed through the low-arched vestibule into the street, a cheek-burnt gamesome sailor passing, exclaimed – 'Steer small, my lad: 'tis a narrow strait thou art in!'
Walk to the corner of Nassau and Beekman Streets.
Here we reenter the bright world of young Mr. and Mrs. Herman Melville, who are keeping house at 103 Fourth Avenue (between 11th and 12th Streets). With a $2,000 loan from his father-in-law to contribute toward purchase price, Melville with his brother, Allan, also newly married, bought the house for joint occupancy and moved their mother, sisters, and brother in with them and their brides. The new Mrs. Herman Melville conscientiously kept her stepmother in Boston informed of her daily life and some of the social duties required of her:
. . . but sometimes-dear me! we have to go and make calls! and then goodbye to everything else for that day! for upon my word, it takes the whole day-from 1 o'clock till four! and then perhaps we don't accomplish more than two or three, if unluckily they chance to be in – . . . and all Herman's and Allan's friends are so polite, to say nothing of Mrs. M's old acquaintances, that I am fairly sick of returning calls. . . . Herman is not fond of parties, and I don't care anything about them here.
She also gave her stepmother a running account of her husband's routine:
Yesterday he went down town with Tom [the youngest brother ] – to the Battery – and to a gallery of paintings – . . .
At another time she wrote that "before dinner he goes down for a walk, looks at the papers."
---
Nassau, Corner of Beekman Street, Clinton Hall
Gathered under the roof of Clinton Hall were two stop-offs for Melville on his walk. Here the Mercantile Library was housed and probably Melville used its reading room for the newspapers. The Mercantile Library was founded in 1820 for the self-education of merchant-clerks and stayed open for them at night.
Another place for Melville to visit in Clinton Hall was the Phrenological Cabinet, which contained plaster casts and charts of famous men's heads, easily available for inspection by a curious passer-by. The phrenologists believed that by feeling the bumps on an individual's skull they could ascertain the kind of brain it enclosed and on the basis of this information deduce behavioral tendencies. Phrenological analysis fascinated many of Melville's contemporaries, especially Whitman, but Melville spoofed it. In Moby Dick he dwelt on the whale's peculiarity of having a bumpless head.
. . . to the phrenologist his brain seems the geometrical circle which it is impossible to square. . . . It is plain, then, that phrenologically the head of this Leviathan, in the creature's living, intact state, is an entire delusion. As for his true brain, you can see no indications of it, nor feel any. The whale, like all things that are mighty, wears a false brow to the common world . . .
Turn left on Beekman and proceed to Park Row. Cross Park Row, the tip of City Hall Park, and Broadway, coming out at the corner of Park Place and Broadway on the west side.
Park Place and Broadway, Bixby's Hotel
When big hearts strike together, the concussion is a little stunning.
—Letter from Melville to Hawthorne, November, 1851
Bixby's—until it was demolished—was one of the few places in New York that could be identified with Nathaniel Hawthorne. During his infrequent visits, he stopped with Bixby, a former publisher who set himself up as more a gentleman than hotelkeeper and was proud to have attracted a clientele of naval officers and journalists. The reticent Hawthorne would huddle on the outskirts of the conviviality around Bixby's stove.
Duyckinck had provided Hawthorne with copies of Typee, Omoo, and Mardi. He wrote to Duyckinck about the latter:
My dear Sir, I have read Melville's work with a progressive appreciation of the author. No writer ever put the reality before his reader more unflinchingly than he does. . . . 'Mardi' is a rich book, with depths here and there that compel a reader to swim for his life.
And Melville had written an anonymous tribute to Hawthorne's prose for Duyckinck's Literary World.
But already I feel that this Hawthorne has dropped germinous seeds into my soul. He expands and deepens down, the more I contemplate him; and further and further, shoots his strong New England roots into the hot soil of my Southern soul.
The two authors ventured mild criticism of each other, also. Melville wanted a "little roast beef done rare" in some of Hawthorne's tales, and Hawthorne grumbled that Melville should have "brooded over it [Mardi], so as to make it a great deal better."
They met shortly after Melville's 30th birthday—Hawthorne was 46 years old—in August, 1850, in the Berkshires, where the Melvilles were spending the summer and the Hawthornes residing. In the fall the Melvilles moved to a farm outside Pittsfield, about six miles distance from Hawthorne's little red house in Lenox. A friendship bloomed, ardent and seeking on Melville's part, responsive and welcoming on Hawthorne's. His journal records anecdotes about this lively neighbor. Going down the road one late afternoon to pick up the mail, Hawthorne "then clambered over the fence and sat down in Love Grove to read the papers."
. . . a cavalier on horse-back came along the road, and saluted me in Spanish; to which I replied by touching my hat, and went on with the newspaper. But the cavalier renewing his salutation, I regarded him more attentively and saw that it was Herman Melville! . . . and we [which included Hawthorne's son, Julian] all went homeward together. . . After supper . . . Melville and I had a talk about time and eternity, things of this world and the next, and books, and publishers, and all possible and impossible matters, that lasted pretty deep into the night. . . .
Sophia Hawthorne, sometimes witness to these discussions, wrote her sister:
Nothing pleases me better than to sit & hear this growing man [Melville] dash his tumultuous waves of thought up against Mr. Hawthorne's great genial, comprehending silences—out of the profound of which a wonderful smile, or one powerful word sends back the foam & fury into a peaceful booming, calm—or perchance not into a calm—but a murmuring expostulation. . .
Melville started writing Moby Dick in New York in 1850, but finished it in Pittsfield, July, 1851, spending more time than he had anticipated in the writing. Immersed as he was in a charged awareness of Hawthorne's presence, he was probably incited to "brood" longer so as to make the Whale "a great deal better." Melville dedicated Moby Dick to Hawthorne. Before its publication, the Hawthornes had moved beyond neighborly visiting distance to West Newton. (Melville may have overtaxed Hawthorne's self-confessed "limited receptivity.") Upon receiving his copy of Moby Dick Hawthorne wrote an appreciation to Melville, who answered upon reading Hawthorne's letter. . .
. . . I felt pantheistic then-your heart beat in my ribs and mine in yours and both in God's. A sense of unspeakable security is in me this moment, on account of your having understood this book. . .
In 1853 the Hawthornes sailed for Liverpool where Hawthorne was slated for the American Consulship. There Melville visited him three years later, engaging him as always in a probing discussion; their last. When Hawthorne died in 1864, Melville wrote for himself
To have known him, to have loved him
         After loneness long; And then to be estranged in life,
         And neither in the wrong; And now for death to set his seal—
         Ease me, a little ease, my song!
—from "Monody," published in Timoleon, the year of Melville's death, 1891.
Return across Broadway to City Hall Park. Again cross the Park's tip and emerge on Park Row, but keep on the west side. Across Park Row in the block between Beekman and Spruce Streets were newspaper and magazine offices in the 1850s.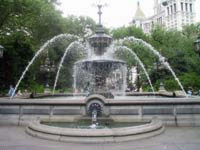 10 Park Row: Putnam's Monthly
Charles Briggs's appointment to the editorship of Putnam's was a shot in the arm for Melville. In the aftermath of the critical denunciation of Pierre, Melville's stock had gone down. Briggs showed courage to begin his editorship by asking an unpopular writer to contribute, but Briggs, himself a writer of sea stories, had always admired Melville's writing.
It started Melville writing short prose, which both Putnam's and Harper's published, and which was collected in a book titled, Piazza Tales. His book-length story, Israel Potter, was first serialized in Putnam's and then published in book form in 1855. Evert Duyckinck commented on the public's reception of these publications in his Cyclopaedia of American Literature, which his brother helped edit.
. . . Mr. Melville has written chiefly for the magazines of Harper and Putnam. In the former, a sketch, entitled Cock-a-doodle doo! is one of the most lively and animated productions of his pen; in the latter, his Bartleby the Scrivener, a quaint, fanciful portrait, and his reproduction, with various inventions and additions, of the adventures of Israel Potter, an actual character of the Revolution, have not met with deserved success.
As Duyckinck implies, Melville's name no longer was a drawing card, and he was adjusting himself to the idea of obscurity. Some 2,300 volumes of his work had burnt up in a fire that had consumed Harper and Brothers in 1853, which rendered his former works unavailable. That the publisher promised to reissue some of them was heartening.
The publishing calendar of the l850s makes a glorious record. From 1850 to 1851 were published Hawthorne's The Scarlet Letter and Melville's White Jacket and Moby Dick; in 1852, Francis Parkman's the Conspiracy of Pontiac; and from 1854 to 1856, Melville's Pierre and Piazza Tales; in 1855 Thoreau's Walden and Whitman's Leaves of Grass.
Neither the publishers nor the public seemed particularly struck by this phenomenal burst of talent. Hawthorne's "damned tribe of scribbling women" dominated as the glamorous writers of the day. In 1851 Maude Cummings sold 40,000 copies of a novel, The Lamplighter, in its first eight weeks of publication. That same year Hawthorne's The Scarlet Letter sold 4,000 copies in the first six months.
Walk along Park Row until it merges into Centre Street (at Chambers Street). Continue on Centre Street to Foley Square. Cross the Square and proceed along Centre Street to Hogan Place (Leonard Street). Here where the Criminal Court now stands once stood The Tombs, New York's notorious prison, built in 1842.
On twilight walks, Melville would have passed the massive structure of The Tombs, New York City's prison which became overcrowded within a decade after it was built. Its modish Egyptian revival facade concealed an internal dampness that Melville must have pondered whenever he went by.
This damp afflicts his fictional, hard-working cooper (in The Confidence Man) who was jailed in The Tombs because—although innocent of any crime—he was witness to one. He needed to be retained for a trial, therefore jailed, and couldn't afford bail to purchase his freedom. Incarceration disables him into being a permanent rheumatic:
Well, souse, I went into a wet cell like a canal-boat splashing into the lock. . . . There the wet and the damp struck into my bones. . .
Melville's Pierre also lands in the wet of The Tombs:
Jail. That sundown, Pierre stood solitary in a low dungeon of the city prison. The cumbersome stone ceilings almost rested on his brow; so that the long tiers of massive cell-galleries above seemed partly piled on him. . . the stone cheeks of the walls were trickling. . .
Regional history bears out Melville's insistence on this pervasive damp. Until the early 19th century, a body of water, the Collect Pond, covered Centre and Leonard Streets to a depth of 60 feet. The site of the Tombs marked the shore of an island on which stood an 18th century gibbet. Although the pond was drained and filled over in 1817, the damp seeped into the cellars of houses in the region.
Only one of Melville's imprisoned rebels, the scrivener, Bartleby, gained the comfort of dry footing in The Tombs. Bartleby could—if he would—have wandered in "the inclosed grass-platted yards. . ." but Bartleby refused the privilege, even though
The yard was entirely quiet. It was not accessible to common prisoners. The surrounding walls, of amazing thickness, kept off all sounds behind them. The Egyptian character of the masonry weighted upon me with its gloom. Hut a soft imprisoned turf grew underfoot. . .
In Israel Potter Melville again considers the state of prisons, although not necessarily The Tombs:
Poverty and liberty, or plenty and a prison, seems to be the two horns of the constant dilemma of my life, thought he. Let's look at the prisoner. And taking up his shaving glass, he surveyed his lineaments.
---
The Melvilles moved back to New York in 1863, taking over Allan Melville's house at 104 East 26th Street, for which they traded their Pittsfield farm. Various inheritances from both sides of the family enabled them to repair and payoff some remaining debt on the house. They were pleased to resume city living. Elizabeth Melville loathed winters in the country and Melville needed the stimulation of an active world around him. The children's education benefited. The family lived on income from Elizabeth Melville's legacy. In 1865, Harper & Row published Melville's Civil War poems Battle Pieces & Aspect of War, to which the public was indifferent. In 1866 Melville learned that the new Collector of Customs in New York was a man he had met in Switzerland. Having tried and failed to get diplomatic and government jobs through pull, this time Melville applied directly for the job of Deputy Inspector and was hired.
His duties mostly took him outside, for he was far too nervous for paper-work. He had a desk for many years at the Customs Office at 470 West Street, at the foot of Gansevoort Street on the North River. A hotel, also the namesake of his heroic grandfather, stood on the corner. On the threshold of the "Gilded Age," New York wasn't interested in the past; its heroes were contemporary and needed only to be rich.
Sometime in May, 1870, Melville wrote to his mother:
The other day I visited out of curiosity the Gansevoort Hotel, corner of 'Little Twelfth Street' and West Street. I bought a paper of tobacco by way of introducing myself: Then I said to the person who served me: Can you tell me what this word 'Gansevoort' means? is it the name of man? and if so, who was this Gansevoort?' Thereupon a solemn gentleman at a remote table spoke up: 'Sir,' said he, putting down his newspaper, 'this hotel and the street of the same name are called after a rich family who in old times owned a great deal of property hereabouts.' The dense ignorance of this solemn gentleman,—his knowing nothing of the hero of Fort Stanwix, aroused such an indignation in my breast, that disdaining to enlighten his benighted soul, I left the place without further colloquy. Repairing to philosophic privacy of the District Of lice [4 70 West Street] I then moralized upon the instability of human glory and the evanescence of many other things.
---
Selected Bibliography

Davis, Merrell R. and Gilman, William H., Editors: The Letters of Herman Melville. New Haven: Yale University Press, 1960.
Gilman, William H.: Melville's Early Life and Redburn. New York: New York University Press, 1951.
Hayford, H., and Tanselle, G. Thomas, Editors: Pierre, or The Ambiguities. Evanston and Chicago: Northwestern University Press and The Newberry Library, 1951.
Leyda, Jay: The Melville Log: A Documentary Life of Herman Melville, 1819–1891. New York: Harcourt Brace, 1951.
Melville, Herman: Typee, Omoo, Redburn, White Jacket, Moby Dick, Piazza Confidence Man.
Miller, Perry: The Raven and the Whale: The War of Words and Wits in the Era of Poe and Melville. New York: Harcourt Brace and Company, 1956.
Murray, Henry A.: Pierre, or The Ambiguities. New York: Farrar & Straus, 1949.
Metcalf, Eleanor: Melville: Herman Melville, Cycle and Epicycle. Cambridge: Harvard University Press, 1953.
Olson, Charles: Call Me Ishmael: A Study of Melville. San Francisco; City Lights Books, 1947.
Warren, Robert Penn, Editor: Selected Poems of Herman Melville. New York: Random House, 1967.

Credits

The research and printing for the original guide (1981) were made possible by the New York Council for the Humanities, the J.M. Kaplan Fund, Inc., the Anne S. Richardson Fund, Consolidated Edison Co. of New York, Inc., and Exxon Corporation. Special thanks to Gigi Bradford, Henri Cole, and John Drury.

The updating and reproduction of the current guide (2006) were made possible, in part, by the New York City Department of Cultural Affairs. Special thanks for research and photography to Stephanie Anderson, Jocelyn (Josie) Casey-Whiteman, C. J. Evans, and Billy Merrell.