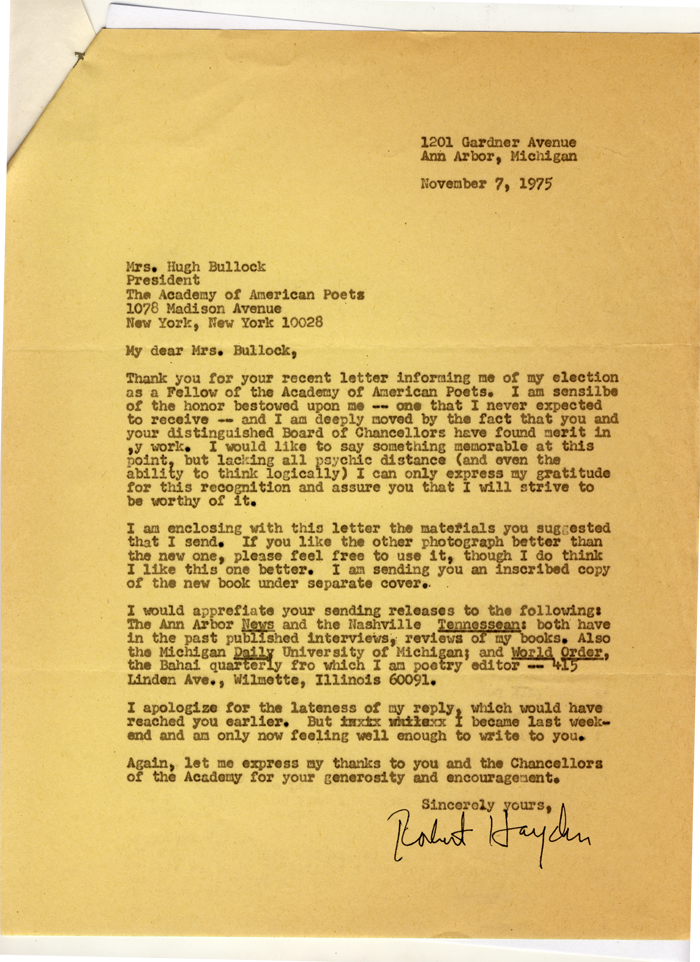 In this letter from our archive, Robert Hayden responds to the news that he has been named the recipient of the Academy of American Poets Fellowship. In his letter he writes, "I am sensible of the honor bestowed upon me—one that I never expected to receive—and I am deeply moved by the fact that you and your distinguished Board of Chancellors have found merit in my work." Modesty aside, by the time he wrote this letter in 1975, Hayden's career had hit a notable stride begun with a number of honors he received in 1966.
Though he had been publishing beforehand, 1966 marked an upswing in Hayden's popularity. That year, his collection A Ballad of Remembrance (P. Breman, 1962) was awarded the Grand Prix de la Poésie at the First World Festival of Negro Arts in Dakar, Senegal. The other finalists in the poetry competition were Derek Walcott (In a Green Night) and Christopher Okigbo (Limits), and Langston Hughes served as one of the judges. A press release announcing the award praised Hayden as "a remarkable craftsman … a striking singer … who gives glory and dignity to America through his attachment to the past, present, and future of his race." Hayden was also named poet laureate of Senegal. That same year, he published his Selected Poems (October House), which was received to much praise and widespread attention from critics. It was also the year Hayden was made poetry editor of the Bahá'i publication World Order, which he mentions in his letter. Though some attacked Hayden for his criticism of the black nationalist school of writers, his acclaim continued into the 1970s. Three colleges and Brown University awarded him honorary doctors of human letters, and he received a National Book Award nomination and the Russell Loines Award for Poetry in 1970.
Hayden's election as an Academy of American Poets Fellow in 1975 allowed him entry into a community of celebrated writers that included W. S. Merwin, W. D. Snodgrass, James Wright, Howard Nemerov, Anthony Hecht, John Berryman, Marianne Moore, and Elizabeth Bishop—all former recipients of the honor. The Fellowship, first established in 1946 and given in memory of James Ingram Merrill, is awarded to one poet each year who is selected by the Academy's Board of Chancellors.
A year after his election as a Fellow of the Academy of American Poets, Hayden was appointed as consultant in poetry to the Library of Congress, a position that would later become the U.S. poet laureateship. He was the first African-American to be appointed to the position, which he held until 1978.
In this letter, Hayden writes, "I would like to say something memorable at this point, but lacking all psychic distance (and even the ability to think logically) I can only express my gratitude for this recognition and assure you that I will strive to be worthy of it"—though it seems many readers and critics alike had already determined Hayden to be an important figure in the literary world, worthy of any degree of honor and recognition. Indeed, in the last fifteen years of his life, Hayden rose in stature and visibility to the renowned poet people remember today. Hayden died on February 25, 1980, just a day after a tribute was held in his honor at the University of Michigan, his alma mater, where he taught up until his death.