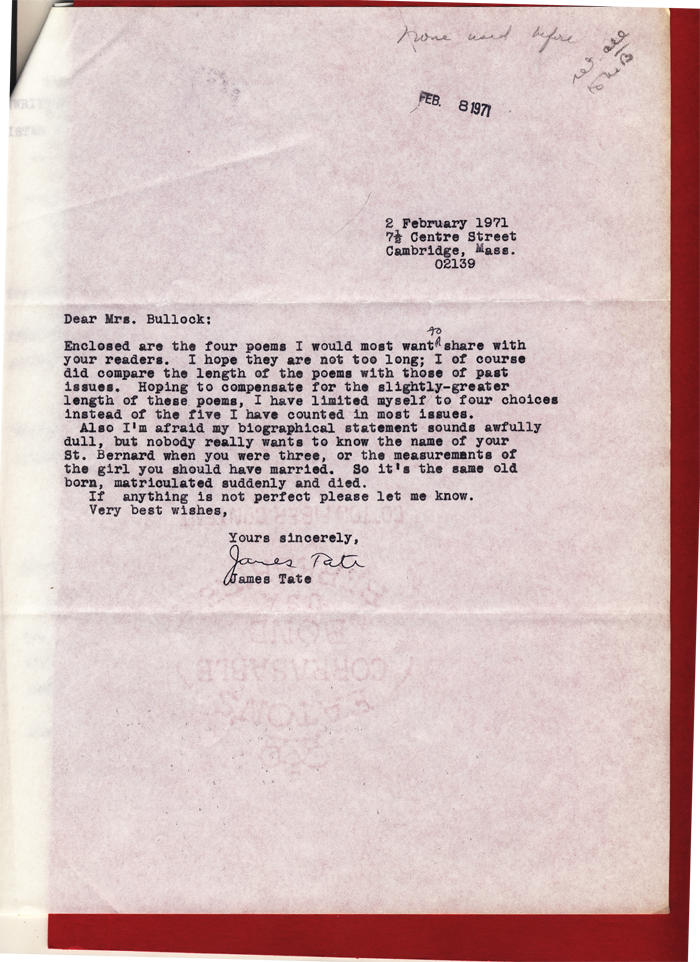 In this letter from our archive, James Tate corresponds with Academy of American Poets Founder Marie Bullock regarding an issue of the Poetry Pilot, the precursor to American Poets. Tate was asked to serve as the poetry editor for an issue, a position that required him to choose poems he wanted included in the magazine.
The "four choices" of poems he references in the letter were "Unwritten Letter from the Mississippi" by Sister Michele Birch; "Hunger" by Charles Simic, from Dismantling the Silence; "From the Pavement" by Attila József, translated by John Bátki; and "Shine, Perishing Republic" by Robinson Jeffers, from The Selected Poems of Robinson Jeffers.
The "awfully dull" biography that he included with this letter read as follows:
"I was born in Kansas City, Missouri in 1943; received a BA from Kansas State College and an MFA from the University of Iowa. My first book, The Lost Pilot, won the Yale Series of Younger Poets in 1966. During the next three years I published four small books, Notes of Woe, Row with Your Hair, The Torches, and Shepherds of the Mist with Stone Wall Press, Kayak Press, Unicorn Press, and Black Sparrow Press, respectively. In 1970, Atlantic, Little Brown & Co. brought out a selection from these four small books entitled The Oblivion Ha-Ha.
In 1967 I was visiting lecturer at the University of California at Berkeley. This was followed with a year of unemployment in Kansas City, Dublin, and London. Presently I am living in Cambridge, Mass., and teaching at Emerson College in Boston and Columbia University in New York.
I've given poetry readings at 150 colleges and universities."
Though Tate casually brushed off his biography as "awfully dull," his achievements up until that point (he was a mere twenty-seven years old at the time he wrote this) were more than he let on; his first book, The Lost Pilot, was received to much acclaim and was also notable for the fact that it was selected while Tate was still a student at the University of Iowa Writers' Workshop. At just twenty-three years old, he was one of the youngest poets to receive the honor. As he indicates in his biographical statement, Tate had a prolific start to his career, a pattern that he maintained throughout his career, consistently publishing a new collection every three to four years up until his death.
As he mentions in his letter, Tate had recently published The Oblivion Ha-Ha. His next book, Hints to Pilgrims (Halty Ferguson, 1971), would be released two months after he wrote this letter.
Tate would continue to receive many honors, including a National Institute of Arts and Letters Award for Poetry, a Pulitzer Prize, and the William Carlos Williams Award, as well as fellowships from the Guggenheim Foundation and the National Endowment for the Arts. In 1995, Tate was also awarded the Wallace Stevens Award (then called the Tanning Prize) for his body of work, and later served on the Academy of American Poets' Board of Chancellors from 2001 to 2007.