about the celebration
National Poetry Month was inaugurated by the Academy of American Poets in 1996. Over the years, it has become the largest literary celebration in the world with schools, publishers, libraries, booksellers, and poets celebrating poetry's vital place in our culture.
Thank you for joining in the celebration by listing your events and attending other events in your community, displaying this year's poster, participating in Poem in Your Pocket Day, recommending the Dear Poet project to a young person, signing up to read a Poem-a-Day, and checking out 30 more ways to celebrate.
We hope National Poetry Month's events and activities will inspire you to keep celebrating poetry all year long!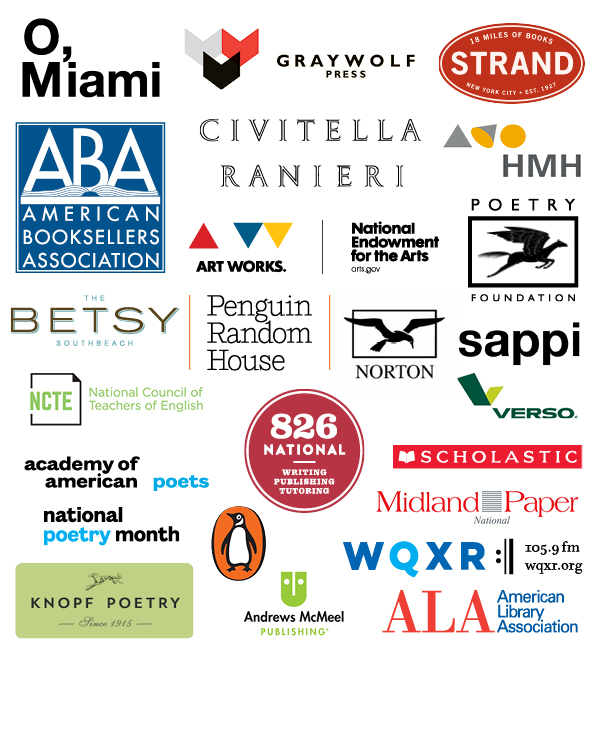 Dear Poet 

A multimedia educational project that invites young people to write letters in response to poems shared by our Chancellors.

Poem in Your Pocket Day

Join thousands of individuals across the U.S. who will carry a poem in their pocket on April 27. 
 

Poetry & the Creative Mind

This year's annual gala will be held at Alice Tully Hall at Lincoln Center in New York City on April 19.
 
date
Free and Open to the Public
Celebrate a quarter-century of the Poets House Showcase and surround yourself with poetry published in the last 18 months. Spend time with your favorite books and discover new favorites.
Poets House
10 River Terrace
10282
NYC
,
New York
The 22nd Annual Poetry Walk Across the Brooklyn Bridge
As Poets House convenes the celebration of its 30th year, join us for our annual poetic pilgrimage across the East River by way of the historic Brooklyn Bridge. Celebrated poets including Billy Collins and Gregory Pardlo are joined by actor and poetry lover Bill Murray to read New York City-inspired poems under the arches of the Bridge. Poets lead the trek from Manhattan to Brooklyn, where dinner, wine, conversation, and poetic inspiration await. Proceeds help to make possible the many events and public programs Poets House presents each year, including its over 100 yearly programs for children and teens.
Tickets begin at $250 general; $225 for Poets House members. Reservations are required.
Admission fee: $250.00
Poets House
10 River Terrace
10282
NYC
,
New York
Join us as we journey into the future of poetry. 2017 Poets House Emerging Poets Fellows read new work crafted during mentorship under their workshop leader, poet r. erica doyle. The Emerging Poets Fellowship, now in its sixth year, assists poets by providing writing instruction, mentorship, funding, and access to Poets House's world-class poetry resources and programming. Presented with support from the Jerome Foundation.
Poets House
10 River Terrace
10282
NYC
,
New York
We're looking forward to this year's National Poetry Month and are excited to announce the following activities and initiatives for this coming April celebration of poets and poetry.
From poets across the country challenging themselves to write a poem each day in April; to skyward murals of poems on the rooftops of Miami buildings for fliers to see; to students in Seattle, many of whom are refugees, telling their personal stories through poems broadcast on public radio... National Poetry Month is an umbrella for many innovative and inspiring local celebrations of poetry, which, together, reach tens of millions of individuals.