about the celebration
National Poetry Month was inaugurated by the Academy of American Poets in 1996. Over the years, it has become the largest literary celebration in the world with schools, publishers, libraries, booksellers, and poets celebrating poetry's vital place in our culture.
Thank you for joining in the celebration by listing your events and attending other events in your community, displaying this year's poster, participating in Poem in Your Pocket Day, recommending the Dear Poet project to a young person, signing up to read a Poem-a-Day, and checking out 30 more ways to celebrate.
We hope National Poetry Month's events and activities will inspire you to keep celebrating poetry all year long!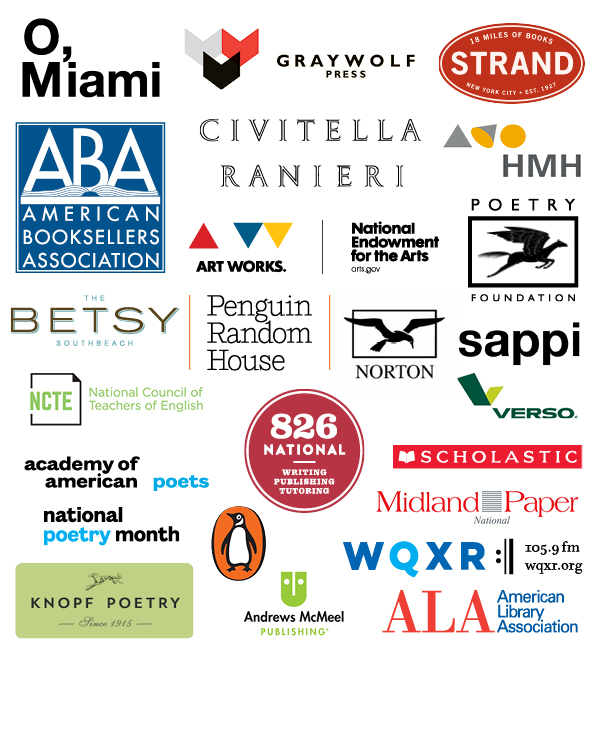 Dear Poet 

A multimedia educational project that invites young people to write letters in response to poems shared by our Chancellors.

Poem in Your Pocket Day

Join thousands of individuals across the U.S. who will carry a poem in their pocket on April 27. 
 

Poetry & the Creative Mind

This year's annual gala will be held at Alice Tully Hall at Lincoln Center in New York City on April 19.
 
date
New York University will host "Robert Lowell: Setting the River On Fire," a lecture by Lowell biographer Kay Redfield Jamison, followed by a roundtable discussion celebrating the works of the acclaimed poet, on Wed., March 1, 7 p.m. at NYU School of Law's Greenberg Lounge (40 Washington Square South [between MacDougal and Sullivan Streets]).
The event, which takes place on the 100th anniversary of Lowell's birth, will feature: Kay Redfield Jamison, author of a new biography, Robert Lowell: Setting the River on Fire; Katie Peterson, editor of Lowell's New Selected Poems; Frank Bidart, National Book Critics Circle-winning poet and longtime associate of Lowell; poet and The New Yorker poetry editor Paul Muldoon; and poet Ishion Hutchinson.
"Robert Lowell: Setting the River On Fire," free and open to the public, will consider his impact on poetry and why he has remained a major presence in our literature after his death in 1977.
An RSVP is required—please register here. For more information, email transformative.lives@nyu.edu or call 212.998.4291. Subways: A, B, C, D, E, F, M (W. 4th St.).
The event, which will include a book signing of Jamison's and Peterson's new works, is sponsored by the Biography Seminar at NYU; the Center for the Study of Transformative Lives; Farrar, Straus and Giroux, Lowell's publisher; Alfred A. Knopf, publishers of Kay Redfield Jamison; and the Poetry Society of America.
NYU School of Law's Greenberg Lounge
40 Washington Square South
10012
New York
,
New York
City Soul Cafe is the premiere spoken word poetry open mic in the triangle area. Come get on the mic and share your words with talented local poets from the Raleigh, NC area and hear nationally-known and award winning features from across the country. We are here at 44 Soul Cafe every Wednesday Night. Doors at 8:30 PM. Show at 9:00 PM.
Admission fee: $5.00
44 Soul Cafe
7361 Six Forks Road
27615
Raleigh
,
North Carolina
Poets Dean Rader (Self-Portrait as Wikipedia Entry) and Dana Levin (Banana Palace) present their new collections from Copper Canyon Press. Wine and sparkling water will be served.
About Dean Rader's Self-Portrait as Wikipedia Entry:
In Dean Rader's newest work, Self-Portrait as Wikipedia Entry, the narrator considers the self and society as a Wikipedia page—forever unfinished, sculpted, and transformed by the ever-present push and pull of politics, culture, and American's fluctuating national identity. Rader's innovative voice is full of humor and inquiry, inviting readers to fully participate in the creation.
Praise for Dean Rader:
"…few poets capture the contradictions of our national life with as much sensitivity or keenness." —Publishers Weekly
Dean Rader's collections include Works & Days (2010) and Landscape Portrait Figure Form, (Omnidawn, 2014). Rader's poems have appeared in Boston Review, American Poetry Review, and Best American Poetry. He is the editor of the 2014 anthology 99 Poems for the 99 Percent: An Anthology of Poems (99: The Press).  Rader writes about literature, culture and politics regularly for The San Francisco Chronicle and The Huffington Post. He is professor of English at the University of San Francisco.
About Dana Levin's Banana Palace:
In her fourth collection, Banana Palace, Dana Levin confronts the deep anxieties of our age with bemusement, incredulity, outrage, and hope. Observing the crisis of human appetite through the lenses of psychology and science fiction, she's disquieted at a world "ruled by a bipolar father-god, unconscious, suicidal."
Praise for Banana Palace:
"Images that are satisfyingly clear…and excitingly inexplicable." —Robert Pinsky, Washington Post
 "The world may seem broken, but these poems don't convey doom—Levin's clear, grounded language leaves the reader hopeful in the end." —Publishers Weekly
Dana Levin's previous collections include In the Surgical Theatre and Sky Burial, which The New Yorker called "utterly her own and utterly riveting." Recent poetry and essays have appeared in Best American Poetry 2015, The New York Times, Los Angeles Review of Books, Boston Review, and Poetry. She serves as Distinguished Writer in Residence at Maryville University in St. Louis.
Mrs. Dalloway's Literary & Garden Arts
1904 College Avenue
94705
Berkeley
,
California
We're looking forward to this year's National Poetry Month and are excited to announce the following activities and initiatives for this coming April celebration of poets and poetry.
From poets across the country challenging themselves to write a poem each day in April; to skyward murals of poems on the rooftops of Miami buildings for fliers to see; to students in Seattle, many of whom are refugees, telling their personal stories through poems broadcast on public radio... National Poetry Month is an umbrella for many innovative and inspiring local celebrations of poetry, which, together, reach tens of millions of individuals.