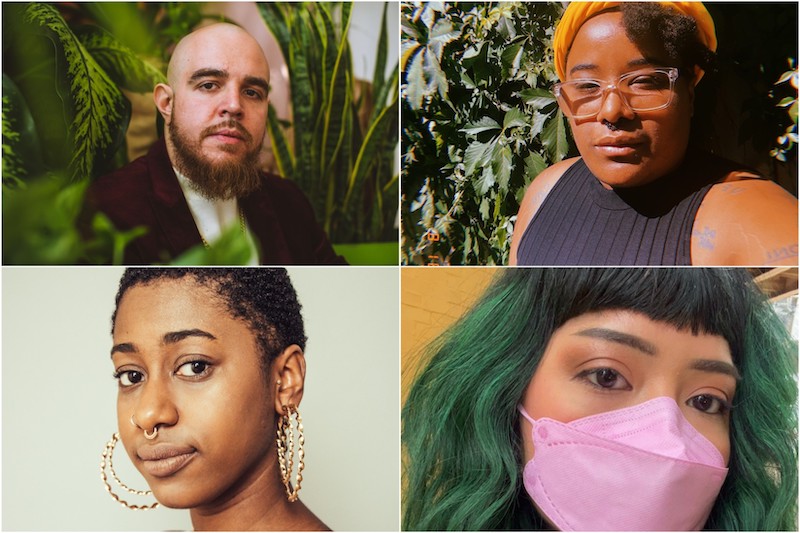 Clockwise from top left: José Olivarez (by Mercedes Zapata), Britteney Black Rose Kapri, Vic Chávez & Raych Jackson.
Join us for an Open Door reading with José Olivarez, Britteney Black Rose Kapri, Vic Chávez, and Raych Jackson, celebrating the launch of Olivarez's book, Promises of Gold. The Open Door series highlights creative relationships in Chicago, including mentorship and collaboration. This is a hybrid event, which will be offered in-person and via livestream.
José Olivarez is a writer from Calumet City, IL. He is the author of Promises of Gold and Citizen Illegal.Citizen Illegal was a finalist for the PEN/ Jean Stein Award and a winner of the 2018 Chicago Review of Books Poetry Prize; it was named a top book of 2018 by The Adroit Journal, NPR, and the New York Public Library. Along with Felicia Chavez and Willie Perdomo, he co-edited the poetry anthology, The BreakBeat Poets Vol. 4: LatiNEXT. His poems are featured alongside photographs by Antonio Salazar in the multi-disciplinary poetic work, Por Siempre.
Britteney Black Rose Kapri is a semi-retired teaching artist, writer, performance poet, and playwright from Chicago. She has been published in Poetry, Vinyl, Day One, Seven Scribes, The Offing and Kinfolks Quarterly. She is a 2015 Rona Jaffe Writers Award Recipient. Her debut book Black Queer Hoe was released in 2018 through Haymarket Books.
Rachel "Raych" Jackson is a writer, educator, and performer whose poems have gained over 2 million views on YouTube. Jackson continues to instruct workshops through the Poetry Foundation, InsideOut Literary Arts, and more. She pushes educators to implement culturally relevant poetry within their curriculum using her five years of experience teaching in Chicago Public Schools. Jackson's work has been published by many— including Poetry, The Rumpus, The Shallow Ends, and Washington Square Review. Her debut collection Even the Saints Audition won Best New Poetry Collection by a Chicagoan from Chicago Reader in 2019. Jackson currently lives in Chicago.
Vic Chávez is a queer Mexican poet from the Chicago suburb of Berwyn. They have a BA in Creative Writing from Columbia College Chicago, where they were an assistant editor for Columbia Poetry Review and an assistant copyeditor for Hair Trigger. Their work has been published in Southside Weekly, Breakbeat Poets Vol. 4: LatiNEXT, and in Columbia College's Poetry Review and Allium Journal. Find Vic on Twitter and IG at @_vichavez.
In-Person Attendance
All guests over the age of two must wear a mask inside the Poetry Foundation building. Guests over the age of five must show proof of vaccination and booster up to the level to which they are eligible for their age group. Guests over the age of 18 must show ID alongside their proof of vaccination. If you cannot meet these requirements, you will not be granted entry to the event. Please note that some performers may choose to perform without a mask. Guests are encouraged to register in advance.
Livestream Attendance
The livestream link will be shared with registered guests on the day of the event. In order to receive the livestream details, please register in advance here.
Poetry Foundation's events are completely free of charge and open to the public. This event will include CART captioning and ASL interpretation. For more information about accessibility at the Poetry Foundation, please visit our Accessibility Guide.