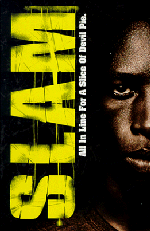 In the film Slam, Ray Joshua is the local bard of his Washington, D.C. housing project, entertaining children with verse and composing poems his friends recite to impress their girlfriends. When he is arrested on trumped-up drug charges and sent to prison to await trail, poetry is his only means of survival. He recites to himself on the prison bus, improvises a duet with a prisoner in the next cell whom he can't even see, and scribbles furiously on yellow legal pads. When threatened in the prison yard by rival gangs, he responds with an explosive poem that startles the prisoners and sends them back to their respective corners to reconsider their feud.
While in jail, Ray meets a passionate writing teacher who encourages him to pursue his poetry. After he is released on bail, the teacher invites him into her circle of spoken word artists and persuades him to take the stage at a poetry slam. In this inner-city fable, poetry is the means of redemption that allows Ray to discover a different path and recognize his true potential.
The story is punctuated by performances of poems written by the film's cast of slam luminaries, including Saul Williams in the lead role, and cameos by Taylor Mali and Bob Holman. Many of these moving pieces represent deeply felt reactions to the desperate conditions in Washington, D.C.'s inner city.
Written and directed by Marc Levin. Poetry by Saul Williams (1998). Rated R.