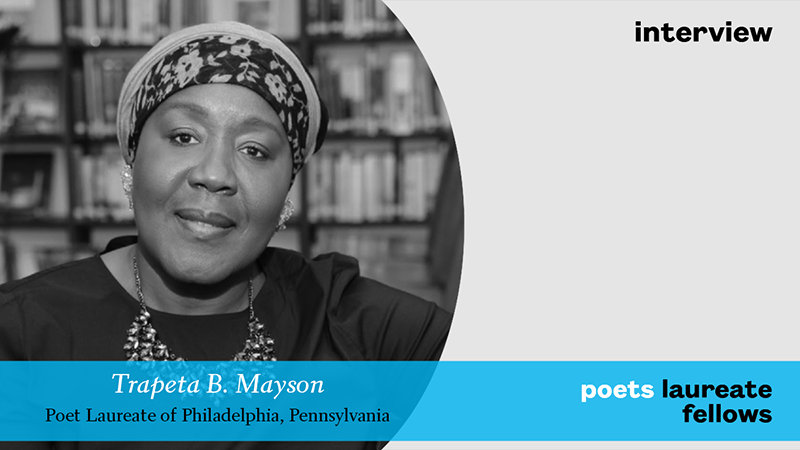 Trapeta B. Mayson, poet laureate of Philadelphia, is the author of Mocha Melodies and a licensed clinical social worker and Chief Program Officer at a community mental health agency. In 2021, Mayson was awarded the Academy of American Poets Poet Laureate Fellowship to continue to develop the Healing Verse Philly Phone Line project, a toll- free phone line launched in early 2021 for Philadelphians and others to call and hear a new, affirming, hopeful, and healing poem each week (1-855-PoemRx2). The fellowship supports the next two phases of the project, which include writing workshops and readings with youth and adults in schools, social service and community settings, and the creation of rain-activated public poetry installations at neighborhood libraries.
---
Poets.org: What do you hope for the future of poetry in Philadelphia, and what support do you hope future poets laureate in Pennsylvania have?
Trapeta B. Mayson: Philadelphia is a welcoming city for poetry. There is something for everyone in this city. A refreshing thing about Philadelphia is that poetry isn't locked into one definition or defined by one group. Poets can be found in academia, in community venues, on stages, facilitating workshops as teaching artists, churning out highly acclaimed work, performing with bands, or quietly writing in their journals. Poems are alive here and take on many forms. When I started my Healing Verse Poetry Line in 2020 (1-855-POEMRX2), it was widely embraced by the city. I received so much love, and the toll-free poetry line was so successful that a leading arts organization, Philadelphia Contemporary, offered to partner with me to co-curate the line in 2022 and beyond, and it is going strong to this day! My hope for future poets laureate in my city is to have the resources to continue to dream up and execute essential projects. While the residents of Philadelphia embrace poetry, we still have a long way to go in terms of formal support systems and resources for poets laureate.
Poets.org: How can a poet, or poetry, bring a community together?
 
TM: My view is that, if poetry doesn't bring a community together, then it isn't doing its job! As a poet whose work is embedded in community practice, I've witnessed the power of poetry and its impact on the lives of people. Poetry helps in times of strife and loss, and it is also there to spark celebration, foster imagination and hope, and remind us of our humanity.
A poet observes and acts. This is the best way to support the community and amplify voices and diverse experiences. I approach community projects from a place of humility. I see it as a partnership, and each party has something valuable to offer. People's stories and experiences are sacred, and this is what I hold, lift up, and celebrate in community practice.
Poets.org: Has being a poet laureate changed your relationship to your own writing in any way?

TM: Yes, it has made me even more attentive to my voice and my perspective, and my power as a storyteller. It has made me focus more on my path as a writer. As a person who is both a full-time artist and a full-time worker in another field, my output, in terms of my manuscript, has been a little slower than I'd hoped; but knowing all the unique, fun, and amazing projects I've developed over my tenure tells me that I'm on the right track and my pace is my own. These experiences have widened my perspective and fueled my passion for writing.
Poets.org: What part of your project were you most excited about?

TM: I continue to be grateful for the reception and national recognition that my project, the Healing Verse Philly Poetry Line, has received. The most important aspect of the poetry line is that it is connected to mental health, wellness, and well-being. The poetry line includes resources and a direct link for those needing mental health support. I love that it's not just a poetry line, but it's also where one can find a poem, respite, referral, reflection, and healing. I also enjoy my community projects. I've created and implemented numerous workshops and community engagement activities. I'm in schools, shelters, mental health agencies, artistic institutions, and virtual spaces, spreading the joy and power of poetry. It's awesome work, and I'm honored and humbled to be doing this labor of love.
Poets.org: What obstacles, if any, did you experience when first starting your project?

TM: My tenure and project started during the pandemic. While it was a difficult and challenging time for all of us, it forced me to try to be even more creative. It was nagging on me that I couldn't reach people the way I've always done—by going right into community settings. I had to figure out a way to still use poetry as a powerful tool to foster healing and engagement. The pandemic slowed my project and process down a bit, but once the project launched, it proved to be just what was needed.
Poets.org: As a licensed clinical social worker, with a focus on mental health, and a poet, could you name some similarities between poetry and cognitive behavioral therapy, or help guide us on the potential relationship between the two?
TM: There are many similarities between the two. Reading and writing poetry helps one to reframe a story, or see it from a different perspective. It involves a different way of thinking about how we are interpreting our experience. Poetry also helps us manage stress—fostering relaxation and reflection. At times, through poetry, we are guided to discover our voice and honor our experiences. Cognitive Behavioral Therapy also helps us reframe our thinking around experiences that may contribute to depression or anxiety. In most cases, we are often supported by a professional who helps us gain and identify tools to help relieve symptoms. As a practitioner in both poetry and mental health, I see the benefits of accessing poetry as one intervention to support mental wellness and wellbeing, along with professional mental health services as needed.
Poets.org: How has the Healing Verse Phone Line project helped people name what they may be fearing, and begin healing from it?
TM: The line offers people a community. Although none of these people will ever meet in person, the collective act or ritual of accessing the line knowing that people all over the city and some nationally are also accessing the line, is a form of communing. While it is a public project, the act of calling from your private place allows one to have a safe space, a safe moment to access poetry. I've learned that many people turned to the line and the poems for a healing message, especially during the pandemic. I've received emails and social media messages from many people expressing how essential the phone line was/is to them. I'm grateful to the many poets who share their words of healing on the line. This project couldn't have happened without them. Having access to poems as a source of healing is something people will always need. Allowing oneself time to reflect and pause in these times or any time is important.
Poets.org: Is there a poem on Poets.org that inspires you and your work in healing Philadelphia and other communities? How?
TM: There are so many. It's really hard to choose. I have to share two: Sonia Sanchez's "This Is Not A Small Voice." I love how it speaks to, and is about, youth. It honors them and names them. It's a love poem to young people and their voices. Because I work in schools as a teaching artist, too, it reminds me of the students I see and hear. Lucille Clifton's "won't you celebrate with me." It's an anthem, a mantra, and a motivational verse for me. It's a small, but mighty, poem that I often teach in community settings. Wherever this poem is read or discovered, it resonates with the listener/reader. Celebrating and honoring people's experiences and voices is the beauty of poetry.