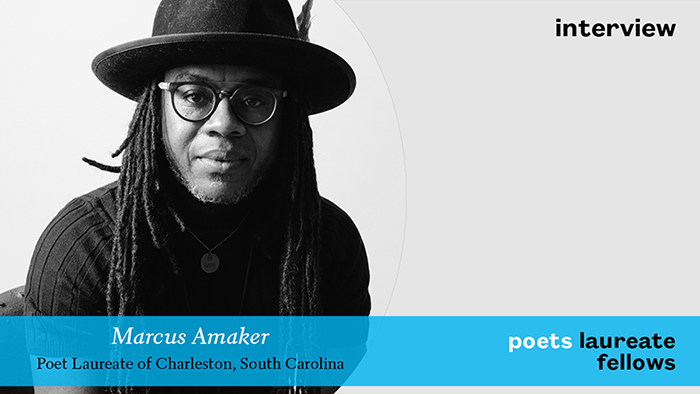 ---
Marcus Amaker, inaugural Poet Laureate of Charleston, South Carolina, is the author of The Birth of All Things (Free Verse Press, 2020). In 2021, Amaker was awarded the Academy of American Poets Poet Laureate Fellowship for his Poets in Schools program, which pairs a poet with a South Carolina school. The poets will work with students to create and publish an anthology of their poems. His fellowship project will support the poets for their time in the schools and their lesson-planning, as well as allow for the free distribution of the published anthology to participating schools.
---
Poets.org: Congratulations on being the first poet laureate of Charleston! What do you hope for the future of poetry in Charleston, and what support do you hope future poets laureate in South Carolina have?
 
Marcus Amaker: It's a wonderful honor to be the "first" of anything, especially this poet laureate position. When I moved to town, I was the graphic designer for an existing poets in schools program. I designed a few books that featured students' work, and was able to witness the positive impact the program had on the scholars. Because of that, I was inspired to start a similar program for this area because the other programs no longer exist.

I hope the future of poetry in Charleston is abundant with safe spaces to perform, and  opportunities for poets to be compensated for their work. I also hope that the city of Charleston becomes more open to poetry as public art—I want this place to be colored with poems on buildings, sidewalks, and more.

I hope that the work I've done as poet laureate will lay the foundation for future poets laureate. I documented many things that I've done in this position—number of school visits, performances, venue contacts. I hope the information helps the future people in this position to expand on what I've done.
Poets.org: How can a poet, or poetry, bring a community together? 
MA: Poets can use their superpowers to bring people together through raw emotion and honesty. Poems break us down and build us up. Our art form can help people see things deeper and differently than what they are used to. Poems are also educational tools: A two-stanza poem can teach more than a whole book. This power, when used for good, can empower people through action and knowledge.
Poets.org: Has being a poet laureate changed your relationship to your own writing in any way?
MA: Yes, being a poet laureate has helped me sharpen my focus on the business side of being a writer. Not just the artistic side of poetry, but the publishing side. I didn't give myself the time to study poetry the way I do now. I also fully understand the responsibility of my work through commissions and other opportunities. It's been a learning experience to use my art form this way. And I'm thankful for every bit of it.
Poets.org: What part of your project are you most excited about? 
MA: Publishing a book of poems from a truly diverse group of students is exciting. And hopefully the book will spark the students to write more and feel more empowered in their voices. The first time I saw my name in print was a life-changing experience. I'm hoping to share some of that joy with others.
Poets.org: What obstacles, if any, did you experience when starting your project? 
MA: Choosing the schools for this first year of the project was a little bit of a challenge. But then I realized that this experience will last for many more years, so I decided to let go of any anxieties around that. COVID is also a challenge, of course. I'd much rather have the poets physically in front of the classroom, but virtual workshops have their place, as well.
Poets.org: Your work revolves around bringing poets to classrooms. Why was it important to you to prioritize bringing poetry into the classrooms? Why this project, and why now?
MA: I've prioritized putting poetry in classrooms because I've never thought I was special for being a poet. This work that I do can be done by others, and it's important to me to let students know they have creative freedom—that this art form, as well as many other art forms, is available to them. 

This project is important now because I'm not seeing much support for poetry in our school districts. But poetry, in my opinion, can be a balm for many students—poetry has helped with anxiety and depression. It's a fairly easy way for them to express themselves and unpack trauma.


Poets.org: Is there a specific poem on Poets.org that inspires you and your work? 
MA: Not many poems have been more inspiring to me than Ginsberg's "Howl." It opened my mind to what words can do, and made me fall in love with repetition in poetic text. Also, Porsha Olayiwola's "Notorious" is absolutely brilliant for its wordplay and presentation.