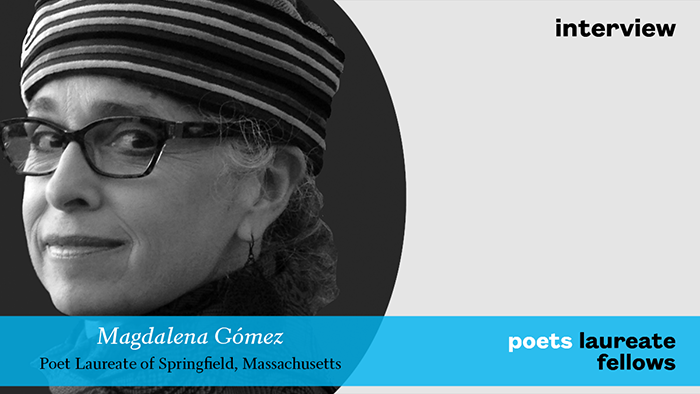 Magdalena Gómez, poet laureate of Springfield, Massachusetts, is the author of Shameless Woman (Red Sugarcane Press, 2014) and a member of the COVID-19 Cultural Impact Commission for the State of Massachusetts. In 2021, Gómez was awarded the Academy of American Poets Poet Laureate Fellowship to support youth poets in Springfield, Massachusetts via in-person and virtual workshops in partnership with Springfield City Libraries. This culminated in virtual and / or in person performances of participants' original poems to be live-streamed, archived, and distributed for viewing across community access stations around the country in partnership with Amherst Media.
 
---
Poets.org: What do you hope for the future of poetry in Springfield? What support do you hope future poets laureate in Massachusetts have?
MG: I am looking forward to our search for Springfield's first youth poet laureate. The ordinance passed unanimously with the support of our Mayor, a City Councilor, and our inaugural Poet Laureate. The goal is to connect the next adult and youth poets laureate to work as both an intergenerational team and individually. I have always worked at connecting generations on the page and the stage. Trust among generations creates a healthy cultural ecosystem that is protected, endures, and can be replicated. As a Puerto Rican (Boricua) and Roma (Gitanx), I know firsthand the erasure of the written and oral literary canons of our people. Not all poetry of merit is written, published, or even acknowledged. My desire for Springfield and Massachusetts, in general, is that poetry becomes a more widely visible and practiced art form in daily life. I want it to be seen as necessary to our health and interconnectedness, and not just a leisure activity of the privileged. Proper compensation for the working poet, laureate or otherwise, is long overdue in most places throughout the U.S. As a start, I plan to advocate for the revision of poet laureate ordinances in my city to include a just wage, or at the very least, a respectful honorarium that supports the work. Ultimately, I would like to see a poets laureate wage scale practiced on a national level and commensurate with the expectations of the appointment.
Poets.org:  How can a poet, or poetry, bring a community together? 
MG: Poetry is as widely accessible as the drum. Every world culture has a form of both. Just as the drum is representative of the beating heart, poetry is an extension of our human experiences, the circadian rhythm of imagination that awakens us, and also allows us to rest. Drums and poems call to us when we hear them. A constant and naturally flowing exposure to diverse poetic content and forms is needed. Equally necessary is the creation of accessible venues, readings, and open mics that welcome everyone with authentic inclusivity in both traditional and non-traditional spaces. Keep it: Non-competitive. Accessible. Welcoming.
Poets.org: Has being a poet laureate changed your relationship to your own writing in any way?
MG: Being a poet laureate during a pandemic has connected me even more deeply with the need to get poetry to the community. In March of 2020, I began "Jazz Ready," originally meant to be a poetry podcast for Springfield residents. It now has a global community of listeners. Being the producer, curator, and host of the show, has brought me a deeper connection to others in these isolating times. My desire to connect my poetry to my diverse ancestral roots has become more deeply urgent. Featured artists have spanned the globe and genres, from poet Cornelius Eady, to hip-hop queen Nejma Nefertiti, to global arts activists, the Afro-Yaqui Music Collective. I encourage poets and other artists interested in joining our roster to reach out to me. 
Poets.org: What part of your project are you most excited about? 
MG: What most excites me is experiencing a person writing and reading poetry for the first time. When I hear "I can't write" or "I'm not creative," I am reminded why I was born. The creative, poetic spirit has been shamed, beaten, drained, or just turned off in too many ways. When tools I provide transform those negative thoughts into positive self-realization and the birth of the duende in a new poet, I feel as if another year is added to my life.
Poets.org: What obstacles, if any, did you experience when starting your project? 
MG: The biggest challenges of being a poet laureate during a pandemic has been the inability to gather in person on a regular basis, and the permanent shuttering of our beloved venue, the Bing Arts Center, where our intergenerational poetry work was centered and our monthly by youth, for youth open mic, Ign!te the M!c, was held. Other venues are available to us, but this was a great loss, especially to the youth, who had built a highly organized and effective poetry collective. The challenges of school, the need to find paying work, life transitions, isolation, and deep grieving have taken their toll on everyone, especially elders and youth. Poetry becomes less of a priority when people are fighting to keep their homes, burying their dead, and trying to put food on the table. The challenge is to help people see the power of poetry to fuel them for these battles.
Poets.org: Your poem "Mother to a Stranger's Child (can I get a witness?)" is the focus of a new orchestral work by Maestro Kevin Scott, which will debut in Springfield in 2022. You are also a recipient of the New England Public Radio Arts and Humanities Award and you have also been at work on a podcast. How has your experience working with multiple mediums to share poetry helped to expand your understanding of poems? 
MG: I have always used my poetry across multiple venues—in collaboration with health, theater, music, radio, television, education, acts of political resistance and protest, as well as visual arts. When I moved to Springfield in 1999, I saw a profoundly segregated city. As a born and raised New Yorker, it was a culture shock. I have been able to use poetry and theater through these multiple venues, as a means to budge open doors and see the diversity of audiences that attended our programs pre-COVID. I believe that intergenerational and inclusive community engagement with poetry is one of the ways we will continue to move forward.
Poets.org: How will the participants' original poems be archived? Will this archive be accessible to the general public and for how long? 
MG: My fellowship sponsor, Amherst Media, has already launched a video of some of the participating poets in performance from my Out/Spoken Words fellowship project. The video, and others to come as part of this project, will be shown on their cable access station, reaching over seven thousand households in the greater Amherst area. It will be shared with other cable access stations for viewing, which includes Focus Springfield, reaching over fifty thousand households. The program can be accessed by any of the stations throughout Massachusetts which number over  two hundred. We also have a video overview of some of my work as an Academy Poets Laureate Fellow available. It will be uploaded to my website and also shared on Amherst Media. These and upcoming videos will be made available to the Academy and will be housed permanently in my archives at the Thomas J. Dodd Research Center at the University of Connecticut at Storrs. Everything will be shared via social media.
Poets.org: Is there a specific poem on Poets.org that inspires you and your archival work in the Springfield community?
MG: I've been an advocate of archival resistance for decades. The Poets.org archive is an invaluable resource for self-education and lifting one's spirits. I recommend it all of the time. My favorites are when I find poets who have been previously erased, are new poets, or whose work cannot be found anywhere else. My most recent treasure found on your site is a ghazal: "Even the Rain" by Agha Shahid Ali (1949-2001).