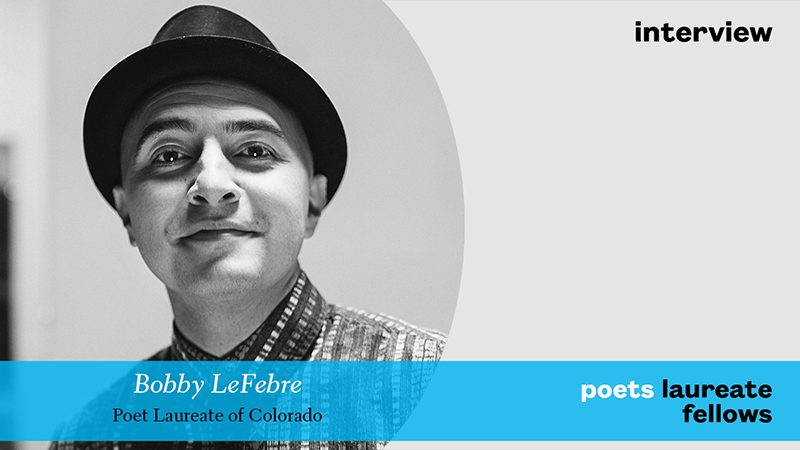 Bobby LeFebre, poet laureate of Colorado, is an award-winning writer, performer and cultural worker. In 2021, LeFebre was awarded the Academy of American Poets Poet Laureate Fellowship to launch Cuentos de Colorado, an interview and reading series that will feature BIPOC poets from across Colorado in partnership with Rocky Mountain Public Media, a family of stations including Rocky Mountain PBS, KUVO JAZZ and THE DROP radio. By showcasing a wide variety of geographical locations, poetic styles, and identities, the state will hear directly from writers that they may not have access or proximity to otherwise.

 
---
Poets.org: What do you hope for the future of poetry in Colorado? What support do you hope future poets laureate have?
Bobby LeFebre: I am looking forward to a future where we make a mess of convention. Where the definition of what constitutes poetry is broadened and expansive enough to hold various forms, aesthetics, traditions, and approaches. I want folks who don't feel like they have an entry point to poetry to discover the ways in which the magic of the artform shows up in their daily lives. I want to dispel the ideas that poetry looks a certain way or that it is inaccessible. As part of my creative process for my recent fellowship project, I walked the streets of Denver asking random people what comes to mind when they hear the word, "poetry." Many of the responses that I received bummed me out. I heard things like, "It's boring," "I don't think anything," and "I don't understand it." We must ensure that we are embedding poetry in all aspects of our cultural and social lives. Government must celebrate it; private and public sectors should engage with it; and our arts and cultural institutions should lift it up.
 As far as support for future laureates, I am advocating that this position is considered more of a priority. I want future Colorado laureates to receive a salary of no less than one hundred thousand a year, so that they may comfortably focus on their work and the work they do across the state. As the adage goes, "Show us your budget and I will show you your values." I want our state to value this position, as it does other professional or cabinet positions. 
Poets.org: How can a poet, or poetry, bring a community together?
 
BL: I often refer to poetry as an indestructible bridge that connects us across the borders we impose upon one another. The poet, when effective, is a cultural worker; a conductor and conduit of a world begging us to see and celebrate our relationship to it. The poet is more than a writer. The poet is more than literature. The poet is a cultural translator. A communal visionary. A steward and servant of humanity and emotion. A dreamer and a realist inseparably entwined. The poet manifests, evokes, and makes tangible the visions and love and life that exist within us all. The poet creates opportunities for discourse. The poet unites us in story and song. Poets often have a way of conveying the complexities and nuances of the human condition in a way that makes sense. This gift brings us together, in community. 
Poets.org: Has being a poet laureate changed your relationship to your own writing in any way?
 
BL: I have never treated the responsibility of the laureateship as some sort of lifetime achievement award. In fact, I would say that the demands of the position have led to a restructuring of my priorities. I view this position as one of service. My writing practice has suffered somewhat, as I have chosen to embed myself in the community, and ensure my presence and work is meaningful. So much of being a poet is not necessarily about the writing. It is about developing a worldview that seeks to travel beyond what we know to discover things we do not. 
Poets.org: What part of your project are/were you most excited about?
 
BL: The thing I was most excited about as I was devising this project was simply amplifying the voices of BIPOC poets across the state. I wanted to engage a group of poets with all types of experiences to understand what they do and why. In the one hundred years there has been a poet laureate program in Colorado, I am the first BIPOC poet that has been appointed. Many people would consider this a great milestone; and it is. It is also a sad reminder of the ways in which white supremacy and systemic racism show up in the arts. I have chosen to center BIPOC and marginalized communities in all of my projects and dedicate my time and attention to uplifting our narratives, traditions, and aesthetics to counter the tired norms of the past.
Poets.org: What obstacles, if any, did you experience when starting your project?
 
BL: With so much talent in this state, it was difficult figuring out a process  for choosing interviewees. I received more than one hundred submissions, and there were many more who didn't apply that I was interested in talking to. 
Poets.org: What has the response for "Cuentos de Colorado" been like, from the poets being interviewed and the listeners?
 
BL: The poets loved the idea and were all super grateful and excited to participate. For some, it was the first time someone asked them questions about their identity as a poet, and it was a learning experience. For others, it was just another of many inquiries about their brilliance. Either way, when you treat people well and your intentions are in the right place, you get mad respect. The homies invited me into their homes, and we forgot the cameras were there. After the series aired, I received mad love from our communities who are hungry to see themselves represented in that way. That's why I do this. To build community and share what I know, while simultaneously learning. It was fun.   
Poets.org: How are the poets who are featured being selected? How often do the episodes air, and for how long will the show run?
 
BL: The selection process was a mix of folx applying and me hand selecting. We decided to do just one show to build proof of concept, and, with additional funding, we are now looking at expanding into the future. Our show is up and live now.