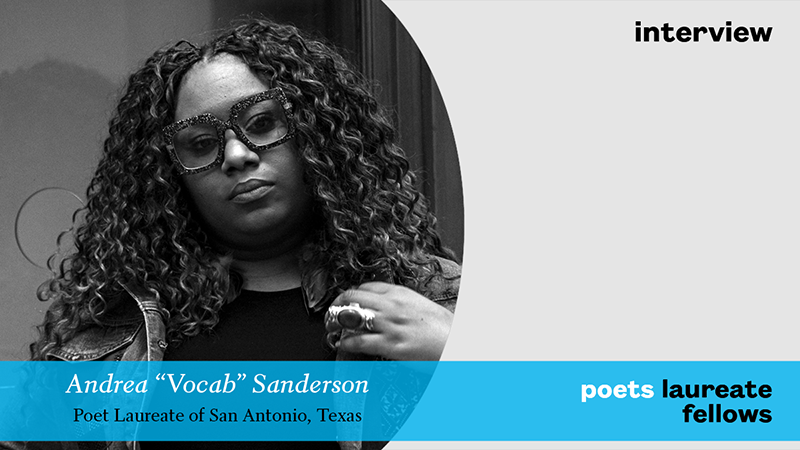 Andrea "Vocab" Sanderson, poet laureate of San Antonio, Texas, is the author of She Lives In Music (Flower Song Press, 2020) and serves as a Teaching Artist for Gemini Ink. In 2021, Sanderson received an Academy of American Poets Laureate Fellowship to launch The Echo Project, an experience that introduces young artists to their community in an in-depth and personal way, fostering an exchange of social currency, wisdom, and context to push their thinking and art through an oral history project, creative workshops, collaborations with local audio and visual artists, and live performances. The project will connect these young artists with community members, including elders, historians, leaders, veteran artists, activists, and educators. The Echo Project aims to create a communal experience uniting young artists with stakeholders who will provide perspective, background, and inspiration to create art that speaks directly to their identity, using their powerful voices to emphasize the importance of storytelling.
---
Poets.org: What do you hope for the future of poetry in San Antonio, and what support do you hope future poets laureate have in Texas?

Andrea "Vocab" Sanderson: My hope for the future in San Antonio is to see the literacy rates increase for people no matter their economic status. I want to see educational systems improve across the board, no matter what side of town a child attends school. I would love to see a youth poet laureate and I want to help make that a reality. I miss how things were before the pandemic when you could go listen to poetry in person almost any day of the week in San Antonio. I want all of the open mics to come back.
Poets.org: How can a poet, or poetry, bring a community together?
AS: Your voice is the most powerful tool a person can use to strengthen and unify their community. Open mics are a place where communities can gather to share ideas and network. Most poetry spots become a place where local artisans can come sell their crafts and goods. Conversations, comfort, and creativity abound in these types of environments. Inspiration is just waiting to happen anytime a poet opens their mouth and the audience opens its mind.
Poets.org: Has being a poet laureate changed your relationship to your own writing in any way? 
AS: I can say that my writing has improved since I have taken on the role  of poet laureate. I talk to God a lot more about the things I am about to write.

Poets.org: What part of your project are you most excited about?

AS: For the Echo Project, we did a series of videos. I am really excited to see how the poets respond to their videos once they get to view them. It can only help build their confidence.

Poets.org: What obstacles, if any, did you experience when you started your project?

AS: I think the major obstacle that we all faced was COVID-19 and learning how to navigate around sickness. I had to postpone my filming. I believe it all worked out in the end. When you are in the middle of the delay, it can be so frustrating and the stress of wanting to keep certain deadlines is very discouraging. But I had a really strong team that kept me encouraged. I think having so many moving parts and people involved is tricky. Events and dates have to be planned well enough in advance to where all the parties involved can be present and share from their heart.
 
Poets.org: Congratulations on launching the Echo Project in early January! We are excited to see how art, and specifically poetry, can bridge the gaps between generations. How did learning from your elders and about the history of San Antonio help to influence your own work and goals? 
AS: For me, it is the small details of hearing the passion and particulars of every story. Young people can pick up so much verbally and nonverbally. It's those moments that go beyond words that really come across in the poetry. There was a mood and reverence that I saw in watching the interviews and then hearing the poems that came out of the interviews. I love to honor my city by creating poems about being from San Antonio. I am learning to take my time and really describe the details. People really do care and want to hear nuance.

Poets.org: How long are the young writers paired with the San Antonio community leaders? How has the project begun to change their perspectives on their own art and voices?

AS: The pairing happened twice for some poets and once for others. The conversations were conducted via Zoom to keep everyone safe. I decided to open it up to all ages because it opened the opportunity for more participants. I saw a sense of wonder and appreciation from everyone involved. The community leaders really loved being heard, and the poets felt seen and gave their best to truly bring out a cohesive and beautiful story.
Poets.org: Is there a poem on Poets.org that inspires you and your work in San Antonio?

AS: Gwendolyn Brooks's "We Real Cool." It's short, but it's potent. I love the cadence and the style of the poem. It reminds of how rhythmic poetry can be and how a flow can be all its own.

"Ego Trippin"' by Nikki Giovanni is also a great poem that traverses this landscape of time, making note of grand things and attributing them to oneself. It says we are connected. These poems give writers permission to play with form and language in a way that is liberating for me as a Black woman writer.