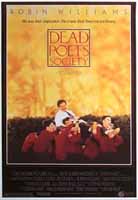 One of the classic films about poetry, Dead Poets Society stars Robin Williams, Robert Sean Leonard, and Ethan Hawke. Directed by Peter Weir (Picnic at Hanging Rock, Green Card, Master and Commander), Dead Poets Society is set in the late 1950s in an East Coast boys' prep school, Welton Academy. Robin Williams plays the school's new English teacher and Welton alumnus, John Keating, who inspires his students to love poetry, and to live life to its fullest potential.
After discovering that their new teacher was once a member of the Dead Poets Society, a secret society that met and read poetry, Keating's students decide to resurrect the group. They begin sneaking off to the woods late at night to read Frost, Tennyson, and other poets, and in doing so learn to appreciate great poetry and form deep friendships.
Poetry is read and discussed throughout much of the film; a central scene involves a performance of Shakespeare's A Midsummer Night's Dream and poetry recitations are sprinkled liberally throughout the movie. One of the most memorable scenes depicts the students' defiant recitation of Walt Whitman's "O Captain! My Captain!" to their beloved teacher. Winner of the Oscar for Best Original Screenplay and nominated for Best Picture, Best Director and Best Actor, Dead Poets Society is a moving story about gaining the freedom to be oneself in the face of adversity.
Directed by Peter Weir (1989). Rated PG.