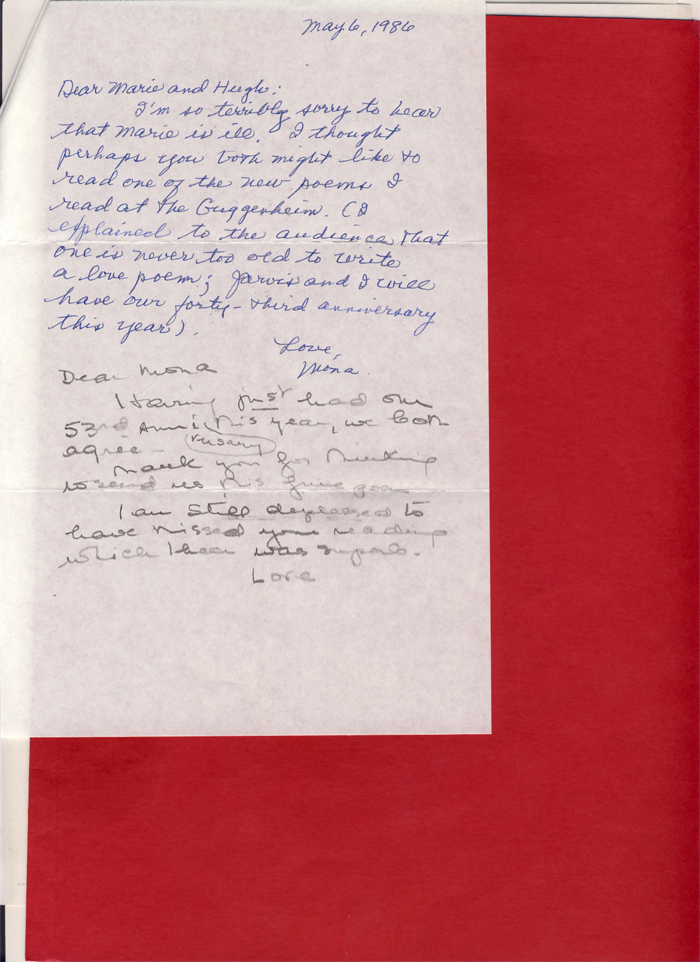 In this letter from our archive, written from Mona Van Duyn to Marie and Hugh Bullock, Van Duyn discusses a recent reading she gave at the Guggenheim Museum in the New York City. The reading took place just a few days before the date of this letter, on April 29, 1986, and was part of a series of readings and lectures presented by the Academy of American Poets in collaboration with the museum. Van Duyn read with Peter Davison, a Boston-based poet and editor who was best known for his four decades of work as a literary editor for the Atlantic Monthly Press and Houghton Mifflin, and his thirty years as poetry editor of The Atlantic Monthly. They were introduced by former Chancellor Richard Howard.
In the letter, Van Duyn writes:
     "I'm so terribly sorry to hear that Marie is ill. I thought perhaps
     you both might like to read one of the new poems I read at
     the Guggenheim. (I explained to the audience that one is
     never too old to write a love poem; Jarvis and I will have
     our forty-third anniversary this year)."
Marie Bullock's handwritten response is included below Van Duyn's note:
     "Having just had our 53rd anniversary this year, we both
     agree. Thank you for thinking to send us this fine poem.
     I am still depressed to have missed your reading, which I
     hear was superb."
The "new poem" that Van Duyn mentions in her letter is "Late Loving," which would appear four years later in her collection Near Changes (Alfred A. Knopf, 1990). In an issue of Poetry, Alfred Corn said of the poem, "'Late Loving' must be the most moving (and honest) poem ever written about marriage approaching the golden anniversary." See the signed copy of "Late Loving" that Van Duyn sent below.
Van Duyn was certainly known for her poems about her marriage. In a June 15, 1992, New York Times article, written upon the news of her appointment to the position of poet laureate, the newspaper observes:
     "[Van Duyn] will commute to Washington for her duties
     and not move here for the $35,000-a-year job because
     of the ill health of her husband, Jarvis Thurston,
     professor emeritus of modern American and English
     literature at Washington University in St. Louis.

     "Her devotion to her husband aside, some critics
     have praised Ms. Van Duyn's poetry for its
     admiration of 'married love,' a description she
     disagrees with. 'Since I am married, I write about
     being married,' she said, 'but if I were in another
     kind of relationship, I'd write about that.'"
The couple was very much aligned in their interests and their careers throughout their long marriage. Van Duyn married Jarvis Thurston in 1943, having met him when they were both getting their doctorates at the University of Iowa. Three years later, they moved to Louisville, Kentucky, where they both accepted teaching jobs at the University of Louisville. The following year, they started Perspective: A Quarterly of Literature and continued to edit the publication for twenty years. In 1950, they both took teaching posts at Washington University in St. Louis
At the time she wrote this letter, Van Duyn had just been elected a Chancellor of the Academy of American Poets, a position she would hold until 1998. With several award-winning collections already behind her, the most recent being Letters from a Father, and Other Poems (Atheneum, 1982), Van Duyn would go on to publish Near Changes and three more successive collections in her lifetime. She was awarded a Pulitzer Prize for Near Changes, and in 1992, Van Duyn made history when she was selected as the first female poet laureate of the United States.