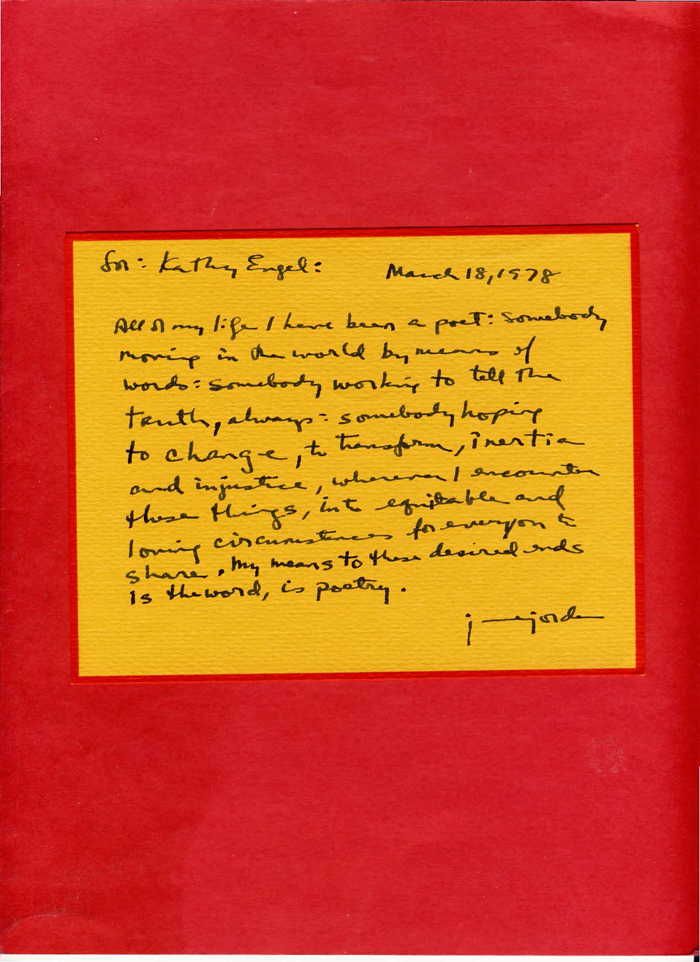 In this 1978 postcard from our archive, June Jordan writes a short statement about herself to Kathy Engel, the Academy of American Poets' program associate at the time.
Jordan, who had recently published her collection Things That I Do in the Dark: Selected Poetry (Random House, 1977) shortly before the date of this postcard, was in discussion with Engel regarding a few Academy-sponsored events at the time. The previous month, Engel had confirmed Jordan's participation in a library project in Connecticut; she was scheduled to present readings and workshops at the Bridgeport Public Library and the Danbury Public Library that May. This statement was likely meant to be included as part of the introductions or promotional materials for these events.
Here Jordan identifies herself not just as a poet, but also as a person interested in engaging with poetry as a political act—unsurprising, given Jordan's work as an activist throughout her life. Jordan, who worked with the Congress of Racial Equality and established the influential Poetry for the People program at the University of California, Berkeley, was also known as an active participant and important voice in the civil rights, feminist, antiwar, and gay and lesbian rights movements.
---
for: Kathy Engel: March 18, 1978
All of my life I have been a poet: Somebody moving in the world by means of words: Somebody working to tell the truth, always: Somebody hoping to change, to transform, inertia and injustice, wherever I encounter these things, into equitable and loving circumstances for everyone to share. My means to these desired ends is the word, is poetry.
—June Jordan