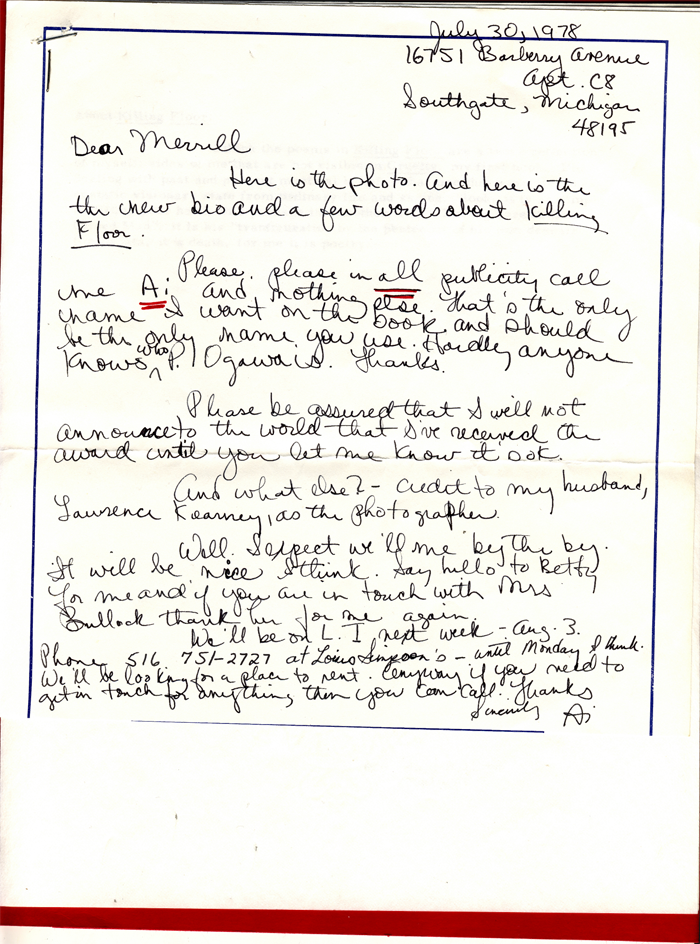 In this letter from our archive, Ai sends her materials to the Academy of American Poets after hearing that she has been selected as the winner of the Lamont Poetry Selection.
Here Ai makes a special point to say that she wishes to be referred to solely as "Ai." She writes: "Please, please in all publicity call me Ai and nothing else. That's the only name I want on the book and should be the only name you use. Hardly anyone knows who P. Ogawa is. Thanks."
Ai was born Florence Anthony, but as a young woman she began to refer to herself as Ai, which translates as "love" in Japanese. After she learned the story behind her conception and found out about her Japanese ancestry, she legally changed her surname to that of her biological father, Ogawa, and changed her middle name to Ai. However, there are still more variations in the names she gave herself; in the letter, she mentions "P. Ogawa," referring to the name Pelorhanke Ai Ogawa, which she also occasionally went by. Despite these different names, she was mostly known by, and is still referred to, as simply Ai.
"Ai is the only way by which I wish, and indeed should, be known," she said about her name change. "Since I am the child of a scandalous affair my mother had with a Japanese man she met at a streetcar stop, and I was forced to live a lie for so many years, while my mother concealed my natural father's identity from me, I feel that I should not have to be identified with a man, who was only my stepfather, for all eternity."
Many writers have identified Ai's name changes and proud, multiracial, self-identification as half Japanese, an eighth Choctaw, a quarter black, and a sixteenth Irish as in keeping with her desire to represent—both in her person and her work—the multiplicity of cultures in America. Ai didn't consider herself as belonging to any one ethnic or cultural identity. She said, "There is no identity for me 'out there.' I have had to step back into my own heart's cathedral and bow down before I could rise up." Her work is also known for its dramatic monologues written in the voices of characters of different ages, genders, races, economic levels, and experiences.
Ai was the recipient of the Lamont Prize, the Academy of American Poets' second book prize, for Killing Floor (Houghton Mifflin, 1979), selected by judges Maxine Kumin, Philip Levine, and Charles Wright. The Academy of American Poets purchased 1,200 copies of the collection to distribute, and Ai joined the company of Marvin Bell, Marilyn Hacker, Donald Hall, Donald Justice, Larry Levis, and Gerald Stern, all previous recipients of the prize. The follow-up to Cruelty (Houghton Mifflin, 1973), Killing Floor helped secure Ai's critical reputation, and her success continued to grow; she went on to receive the American Book Award and the National Book Award for Poetry, as well as fellowships from the Guggenheim Foundation and the National Endowment for the Arts.
The Lamont Poetry Selection, now named the James Laughlin Award in honor of the famous poet and publisher, is still awarded annually by the Academy of American Poets to an exemplary second book of poetry forthcoming in the next calendar year. For more information about the James Laughlin Award, including the guidelines and entry form, visit the prize page.