New York, NY (January 21, 2021)— The Academy of American Poets, the originator of National Poetry Month, now a worldwide celebration in its twenty-fifth year, is pleased to announce that twelfth grader Bao Lu from Edward R. Murrow High School in Brooklyn, New York, has been named the winner of the 2021 National Poetry Month Poster Contest. Lu's artwork was selected by renowned illustrator Maira Kalman and New York Times-bestselling YA author and poet Renée Watson from among eleven outstanding finalists and more than 145 student submissions. The Academy of American Poets will distribute 100,000+ free copies of the 2021 poster featuring Lu's artwork to libraries, schools, bookstores, homes, and community centers nationwide to help mark the occasion of the twenty-fifth anniversary of National Poetry Month this April. The poster will also be available for free download. 
As the winner of the contest, Lu will receive $1,000 in cash and prizes, including a Blick Art Materials gift coupon and art supplies from Sakura of America. He will also be featured in the April 2021 issue of American Poets magazine.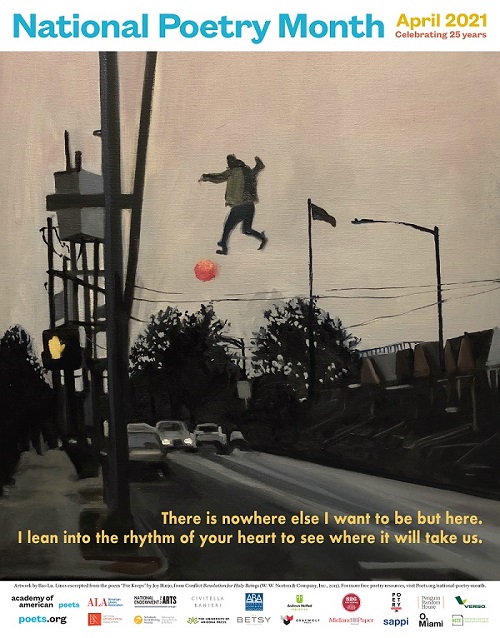 The judges have additionally selected artwork by eleventh grader Hafsat Sibaweihi from Saunders Trades and Technical High School in Yonkers, New York, to receive Honorable Mention for the 2021 National Poetry Month Poster Contest. As the runner-up Sibaweihi will receive $250.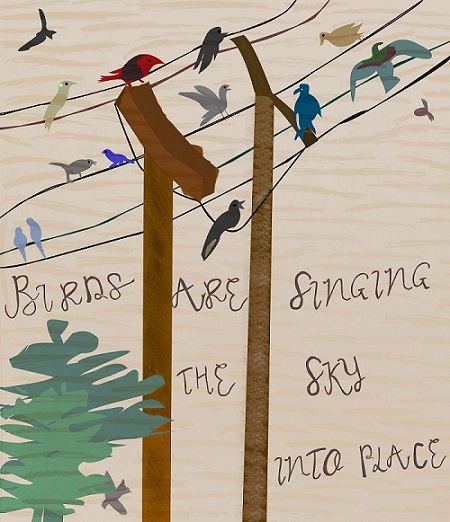 For the contest, the Academy of American Poets invited students in grades nine through twelve to submit artwork that incorporated line(s) from the poem "For Keeps" by current U. S. Poet Laureate Joy Harjo and that reflected a celebration of the art of poetry. Lu chose the following lines: 
"There is nowhere else I want to be but here.
I lean into the rhythm of your heart to see where it will take us."
In his artist's statement, Lu writes: "I often think of how the world presents itself to me. The world that we inhabit is one of convenience and comfort, but can also be one of detachment and isolation. Love and connection are motivations that I think are very intertwined in my thought process. I find myself fascinated with love, and how that manifests in our daily lives. This may manifest in how we communicate, interact, and form connections. I see love as a catalyst, a guide to help us see our purpose. But there is a cruel irony that I have observed: in an age of infinite connection (whether it's social media, etc.), I find that there is a deprivation of human interaction and a struggle to look for a higher meaning of love.
But Joy Harjo's words radiated an unspeakable nostalgia, it uncovered a distant memory in me that, at one point, slipped away. I began to recount all of my moments of connection and love; I remembered moments where I didn't trudge through the world but rather ran through it with spirit and conviction. I wanted to capture this tender, yet eager feeling with my oil painting.
Creating this piece, Spacewalker, that can depict both moments of action and stillness in conjunction, is one of my greatest satisfactions in art because it not only questions the attitudes, fears, and unwritten rules that we have formed within our environments, but it also shows the greatness and complexity of the human experience in nuanced and contradicting ways."
"Bao's art is somber and joyful all at once, says judge Renée Watson. "It captures the longing in Harjo's poem and brings to life what is familiar—cars traveling to and from a place they'll miss, a place they are eager to get to, homes filled with people who are having dinner, talking, sitting alone. And then, the magic of escaping, of defying gravity. The image deftly captures the sentiment of wanting to be wherever you are, wherever you're going."
Sibaweihi, the Runner-Up, chose the following lines from Harjo's poem: 
"Birds are singing the sky into place."
In her artist's statement, Sibaweihi writes: "In my artwork and sketches, I love to showcase nature, my surroundings or environment, and compatibility. This particular artwork has involvement or connection with a poem called 'For Keeps' by Joy Harjo. The poem 'For Keeps' represents the true natural basis of earth and how sentimental people, animals, things could be. It allows the sense of being in sync to be seen and relished. I had to select my favorite line in the poem which is "Birds are singing the sky into place," and make it into an artwork that portrays the feelings or motions of what the words stand for. From my perspective, those words have an emphasis on staying together and caring for each other. So, I decided to draw birds on electric poles which almost everyone has seen before. The mood of this artwork gives a warm pleasant vibe. Birds normally symbolize love, peace, loyalty, and happiness of not being alone. They also have the freedom on earth to wander around and enjoy each other's company. However, birds have a major impact on nature in balancing the world. The color within the birds expresses different meanings. Moreover, in my point of view, I think the electrical poles stand for humans. It's vital since the birds are resting on it and appreciating the fact that something like that was created by humans, which they took the advantage of to make it their little chilling place. Finally, this artwork simply represents the complexion of our beautiful surroundings."
About Sibaweihi's artwork, Watson says: "Hafsat's intention to bring together an array of all kinds of birds is a glorious metaphor. This unique, diverse flock has come together, and they are "singing the sky into place." Like Harjo's poem, this image brings much comfort, solace, and offers a sense of belonging, a place where all can go."
About Lu's and Sibaweihi's artwork, judge Maira Kalman says: 
"I love these two pieces. 
Bao Lu and Hafsat Sibaweihi are stellar. 
Their work exudes intelligence, clarity, whimsy and narrative.
A freshness of vision. An appealing inclusiveness. 
The type treatment is interesting. 
They are both original in their style and content.
People and birds sail over the world.
Dancing and singing ensues.
Infectious gratitude for being alive."
Request a free copy of the National Poetry Month poster featuring Lu's winning artwork in time for the twenty-fifth annual celebration this April. 
About Maira Kalman
Maira Kalman is the author/illustrator of over 30 books for adults and children. She has contributed many pieces to The New York Times and The New Yorker. She lives in New York City.
About Renée Watson
Renée Watson is a New York Times-bestselling author, educator, and activist. Her young adult novel, Piecing Me Together (Bloomsbury, 2017) received a Coretta Scott King Award and Newbery Honor. Her poetry and fiction often centers around the experiences of black girls and women, and explores themes of home, identity, and the intersections of race, class, and gender. Renée served as Founder and Executive Director of the I, Too, Arts Collective, a nonprofit committed to nurturing underrepresented voices in the creative arts, from 2016–2019. Renée grew up in Portland, Oregon, and splits her time between Portland and New York City.
About National Poetry Month
National Poetry Month was launched by the Academy of American Poets in 1996 and takes place each April. Over the years, it has become the largest literary celebration in the world with schools, publishers, libraries, booksellers, community centers, and poets honoring poetry's vital place in our culture. The special month of programs is made possible by more than seventy poetry partners and sponsors, as well as the National Endowment for the Arts. Resources for celebrating the month, which includes Poem in Your Pocket Day and the Dear Poet Project, can be found at Poets.org/npm, the official information hub for the occasion.   
About the Academy of American Poets 
The Academy of American Poets is the nation's leading champion of poets and poetry with supporters in all fifty states. Founded in 1934, the organization annually awards more funds to individual poets than any other organization through its prize program, giving a total of $1,250,000 to more than 200 poets at various stages of their careers. The Academy also produces Poets.org, the world's largest publicly funded website for poets and poetry; originated and organizes National Poetry Month; publishes the popular Poem-a-Day series and American Poets magazine; provides award-winning resources to K–12 educators, including the Teach This Poem series; hosts an annual series of poetry readings and special events; and coordinates a national Poetry Coalition working together to promote the value poets bring to the country's culture. This year, in response to the global health crisis, the organization joined six other national organizations to launch Artist Relief, a multidisciplinary coalition of arts grantmakers and a consortium of foundations working to provide resources and funding to the country's individual poets, writers, and artists who are impacted by the ongoing COVID-19 pandemic.