New York, NY (January 19, 2022)— The Academy of American Poets, the originator of National Poetry Month, now a worldwide celebration, is happy to announce that eleventh grader Lara L. from Saunders Trades and Technical High School in Yonkers, New York, has been named the winner of the 2022 National Poetry Month Poster Contest. Lara's artwork was selected by Rafael López, New York Times bestselling illustrator and artist, and Nikki Grimes, New York Times-bestselling author and poet, from among thirteen outstanding finalists and 170 student submissions. The Academy of American Poets will distribute 90,000+ free copies of the 2022 poster featuring Lara's artwork to libraries, schools, bookstores, homes, and community centers nationwide to help mark the occasion of National Poetry Month this April. The poster will also be available for free download. 
As the winner of the contest, Lara will receive $1,000 in cash and prizes. She will also be featured in the April 2022 issue of American Poets magazine.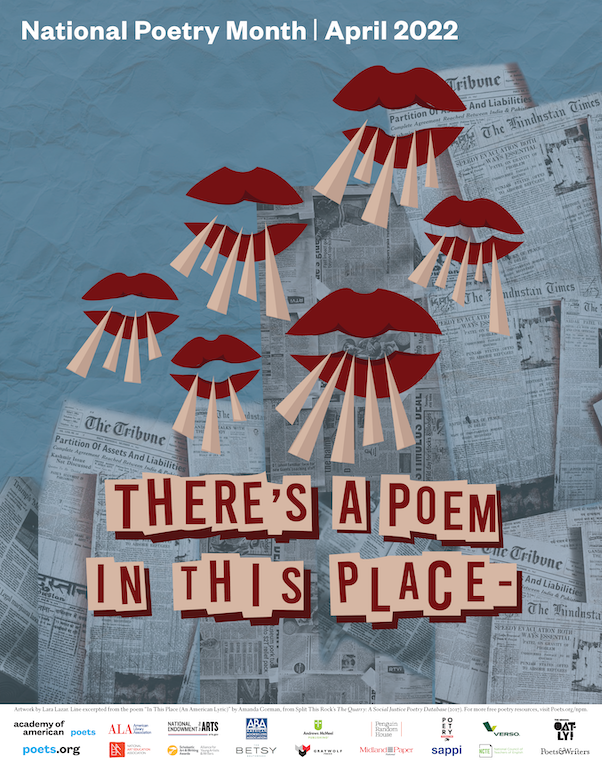 The judges have additionally selected artwork by eleventh grader Emily Z. from Needham High School in Needham, Massachusetts, to receive Honorable Mention for the 2022 National Poetry Month Poster Contest. As the runner-up, Emily will receive $250.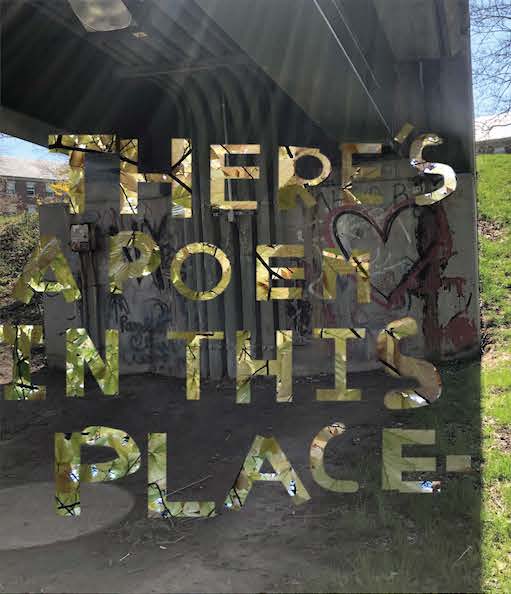 For the contest, the Academy of American Poets invited students in grades nine through twelve to submit artwork that incorporated the following line from the poem "In This Place (An American Lyric)" by Amanda Gorman and that reflected a celebration of the art of poetry: 
"There's a poem in this place—"
In her artist's statement, Lara writes: "Before speaking about this piece, I feel it's important to discuss what I interpreted from this poem, which was the fact that everyone in America has their own story to tell whether it's tragic, or hopeful, or joyful. Through making a piece where the main focal point is mouths speaking out, I tried to convey those voices and their stories that they share. I decided to have mouths that vary in size because I believed a main key to the message I was trying to convey was that it's so important to listen to voices big or small. The background also plays a very important part in this piece. I decided to have newspaper clippings in the shape of a city skyline to represent the fact that most of our environment is heavily influenced by the media we see and the news that gets brought to us. By having the voices speaking in front of the newspaper clippings I tried to emphasize the importance of listening to people's stories, because sometimes we can't hear what people have to say due to misinformation and the media's monopoly on our world. As for the color scheme, I decided to go for the red, white, and blue route to bring the American theme into play, but I decided to go for more muted but still striking maroon colors when it came to the mouths themselves to create contrast and further emphasize them into the piece."
About Lara's winning artwork, judge Rafael López says: 
"Lara demonstrates strong conceptual qualities in her design. How poetry rises above the noise of the media and gives voice to hope and beauty. There is Dadaist energy in the clever juxtaposition of symbols, type, newsprint, mixed with social criticism." 
"Dire headlines often paralyze and overwhelm us with a need to cry out," says judge Nikki Grimes. "Lara brings both ideas brilliantly to light here, with overlapping front pages and a multiplicity of mouths reflecting the diversity of America, each trumpeting a response to the news of the day. Lara makes of Amanda Gorman's verse a lyric, with bold red lips that not only speak, but sing, 'There's a poem in this place,' even here, even now."
In her artist's statement, runner-up Emily writes: "I composed my piece off of the idea that there is a history of ruined opportunity and more opportunities in urban areas, no matter how rundown or abandoned they may seem. The lines in the poem that specifically resonate with this theme and the idea I am trying to express are the opening line of 'There's a poem in this place—' and the addition of the line 'a poem in America.' This I feel shows that urban and rundown areas are a reminder of opportunities that went astray. It also represents the nature and natural history of America that has been left behind due to the urban and colonization of the land that Indigenous people used to live off of and create their own cultures and experiences off of. The great American poem represents the vast history we have created for ourselves as Americans and the journey that our country has taken in order to thrive and succeed in the eyes of our rich and industrial focused leaders. The underpass that is depicted in the photograph is taken from a highway on the way to Rochester, New York. It was filled with graffiti and I knew that it was the perfect place that showed the American public's history and ideals around this place. The leaves that make up the words are taken from a mountain in Massachusetts that show that there was history to America and its land before development of this great nation brought it to the nation it is today."
"Emily's insightful solution demonstrates that you can find inspiration anywhere if you look close enough," writes López. "Her design points out the power of poetry to express both power and beauty even in darkness. A message we all need to hear right now."
About Emily's work, Grimes says: "Emily's image celebrates the city, particularly those marginalized citizens who live in dark and narrow spaces and yet have something colorful and beautiful to offer the world.  In Emily's translation of Amanda Gorman's verse, we're reminded that, no matter where we lay our heads, there is always poetry and beauty to be found, or to be made, in the spaces we inhabit."
Request a free copy of the National Poetry Month poster featuring Lara's winning artwork in time for the celebration this April. 
About Nikki Grimes
Nikki Grimes is a New York Times-bestselling author and poet. The author of Ordinary Hazards (WordSong, 2019), which received the ALA Michael Printz Honor, the ALA Robert F. Sibert Honor, and the 2020 Boston Globe-Horn Book Honor Award for Nonfiction, Grimes is the recipient of the 2020 ALAN Award for outstanding contributions to young adult literature, the 2017 Children's Literature Legacy Award, and the 2006 NCTE Award for Excellence in Poetry for Children. She lives in Corona, California.
About Rafael López
Rafael López is an internationally recognized illustrator and artist. He is a founder of the Urban Art Trail movement in San Diego's East Village creating a series of large-scale murals that brought the community together. His murals can be found in urban areas, at children's hospitals, public schools, under freeways and at farmer's markets around the country. López's community work with murals is the subject of the children's book Maybe Something Beautiful, How Art Transformed a Neighborhood (Clarion Books, 2016). He lives and works in an industrial loft in downtown San Diego and at his home/studio in the colonial town of San Miguel de Allende, Mexico.
About National Poetry Month
National Poetry Month was launched by the Academy of American Poets in 1996 and takes place each April. Over the years, it has become the largest literary celebration in the world with schools, publishers, libraries, booksellers, community centers, and poets honoring poetry's vital place in our culture. The special month of programs is made possible by more than seventy poetry partners and sponsors, as well as the National Endowment for the Arts. Resources for celebrating the month, which includes Poem in Your Pocket Day and the Dear Poet Project, can be found at Poets.org/npm, the official information hub for the occasion.   
About the Academy of American Poets 
Founded in 1934, the Academy of American Poets is the nation's leading champion of poets and poetry with supporters in all fifty states. The organization annually awards more funds to individual poets than any other organization through its prize program, giving a total of $1.25 million to more than 200 poets at various stages of their careers. The organization also produces Poets.org, the world's largest publicly funded website for poets and poetry; organizes National Poetry Month; publishes the popular Poem-a-Day series and American Poets magazine; provides award-winning resources to K–12 educators, including the Teach This Poem series; hosts an annual series of poetry readings and special events; and coordinates a national Poetry Coalition working together to promote the value poets bring to our culture.