Produced for K-12 educators, Teach This Poem features one poem a week from our online poetry collection, accompanied by interdisciplinary resources and activities designed to help teachers quickly and easily bring poetry into the classroom. The series is written by our Educator in Residence, Dr. Madeleine Fuchs Holzer, and is available for free via email.
Garden at Vaucresson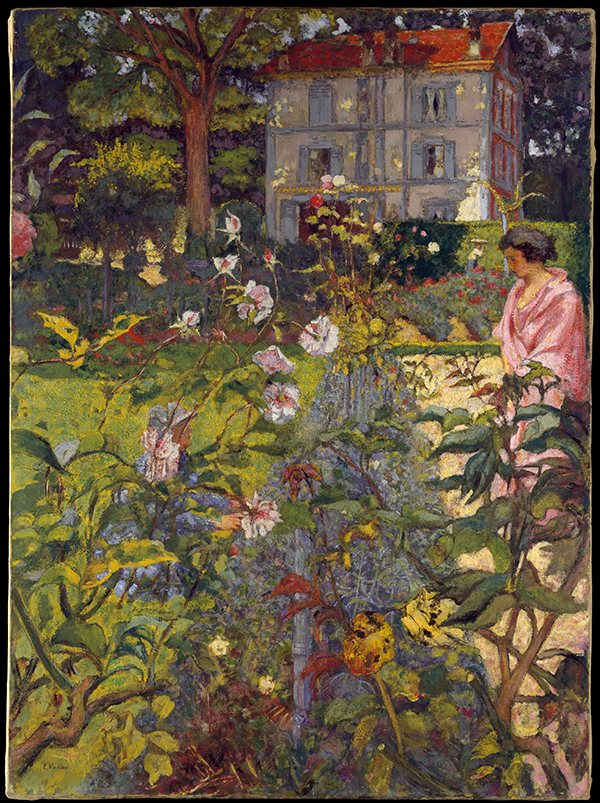 Garden at Vaucresson by Édouard Vuillard (1868–1940). Date: 1920; reworked 1926, 1935, 1936. Medium: Distemper on canvas. Dimensions: 59 ½ x 43 ⅝ inches. Credit line: Catharine Lorillard Wolfe Collection, Wolfe Fund, 1952. www.metmuseum.org
Classroom Activities
Whip-around: Go around the room and ask your students to say, in two or three words, what the term country house means to them.
Project the painting Garden at Vaucresson so all your students can see it. Let them look at it for several minutes. Then ask them to write down what they see in the image—colors, brush strokes, objects, etc. Ask your students to turn to a partner and share what they see and how it makes them feel about this country house.
Project the poem "A Place in the Country" by Toi Derricotte for your students to see. Ask them to read it silently, and then write down the words and phrases that jump out at them. Ask a student to read the poem aloud to the class, while the listening students write down new words and phrases they might think important. Repeat this process with a second student reading aloud.
Gather your students in small groups and ask them to share the words and phrases that jumped out at them. Why do they think these words and phrases might be important to the poem?
Whole-class discussion: Drawing on their discussion of the image of the painting and what they noticed in the poem, what do your students think are the initial feelings of the couple in the poem toward buying a house in the country? How do their feelings change over the course of the poem? Why do their feelings change?