I am taken with the hot animal
of my skin, grateful to swing my limbs
and have them move as I intend, though
my knee, though my shoulder, though something
is torn or tearing. Today, a dozen squid, dead
on the harbor beach: one mostly buried,
one with skin empty as a shell and hollow
feeling, and, though the tentacles look soft,
I do not touch them. I imagine they
were startled to find themselves in the sun.
I imagine the tide simply went out
without them. I imagine they cannot
feel the black flies charting the raised hills
of their eyes. I write my name in the sand:
Donika Kelly. I watch eighteen seagulls
skim the sandbar and lift low in the sky.
I pick up a pebble that looks like a green egg.
To the ditch lily I say I am in love.
To the Jeep parked haphazardly on the narrow
street I am in love. To the roses, white
petals rimmed brown, to the yellow lined
pavement, to the house trimmed in gold I am
in love. I shout with the rough calculus
of walking. Just let me find my way back,
let me move like a tide come in.
Copyright © 2017 by Donika Kelly. Originally published in Poem-a-Day on November 20, 2017, by the Academy of American Poets.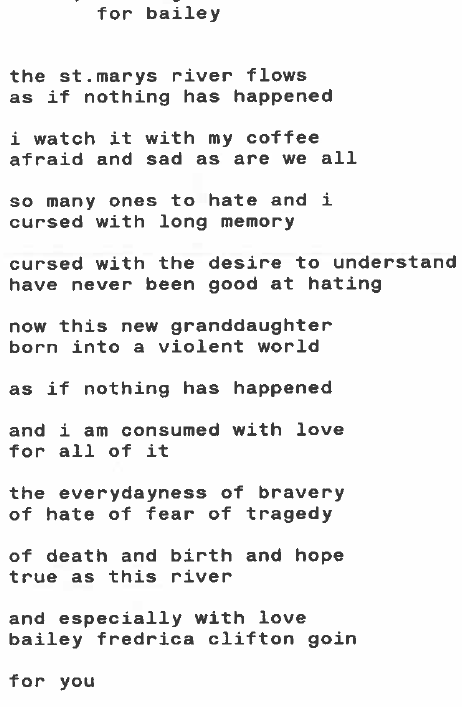 From the Academy of American Poets Archives. This poem is part of "September Suite" by Lucille Clifton, 2001.

Two girls discover
the secret of life
in a sudden line of
poetry.

I who don't know the
secret wrote
the line. They
told me

(through a third person)
they had found it
but not what it was
not even

what line it was. No doubt
by now, more than a week
later, they have forgotten
the secret,

the line, the name of
the poem. I love them
for finding what
I can't find,

and for loving me
for the line I wrote,
and for forgetting it
so that

a thousand times, till death
finds them, they may
discover it again, in other
lines

in other
happenings. And for
wanting to know it,
for

assuming there is
such a secret, yes,
for that
most of all.
By Denise Levertov, from Poems 1960-1967. Copyrightt © 1966, 1964 by Denise Levertov. Reprinted by permission of New Directions Publishing Corp. All rights reserved.